Posted on
Mon, Nov 5, 2012 : 10 a.m.
Caribou Tenderloin has unique Arctic flavor, toothsome texture
By Peggy Lampman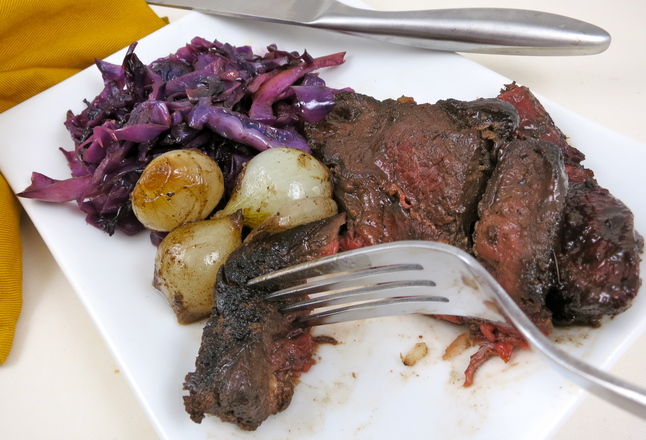 Peggy Lampman | Contributor

My Holiday Cookbook may be of assistance in your celebration strategies. Strapped for time? Check out the well-tested Super-Simple section.
I hesitate writing a recipe that would require a trip to the Arctic Circle to purchase (or hunt down) the main ingredient, but here you have it. Besides, I wouldn't be surprised if Bob Sparrow (Sparrow Meats in Kerrytown) could get you a caribou tenderloin if you wanted one.
Our friend, Jack, went hunting with friends on the Arctic Circle for caribou in October. It's too late for outsiders to go caribou hunting now, as it's become so cold the hunting is left to the locals and native tribes in this frigid northwestern Arctic region.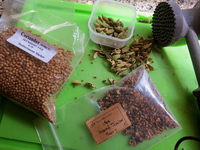 Jack and his cronies bagged a caribou and he brought back a tenderloin for me to mess around with — a first for me, but I've always enjoyed wild game and a culinay challenge. Jack tells me that the natives like to leave the fat on the meat, which is some of the most flavorful in the world. Most of caribou killed in the region are taken by locals, not sport hunters, and caribou is sustenance for the natives.
I could only find two recipes for caribou online (!), one of which was a very complicated recipe from Stein Eriksen Lodge in Park City, Utah, that incorporates spicy gingerbread, boniato squash puree, and a cranberry-port wine jus. The only element of his recipe I adapted was the rub used, which was a perfect marriage of flavor with the caribou.
We relished the flavor of the meat, which was mild and tasted of lichens and moss, the Arctic fauna on which the animals grazed. The meat was "toothsome," like grass fed, lean cuts of beef. The next time I'm lucky enough to have this meat, I'll tenderize it by cutting them into individual steaks and marinating 12-24 hours before cooking. After that, I'll use the same recipe below — it was marvelous.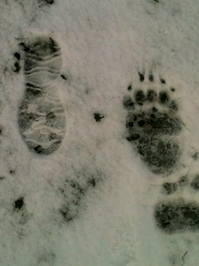 This was meat from the second caribou catch of the hunt. The men butchered the first animal caught by a stream, bundled it up, then returned to the tents to sleep. The next morning the tarp was gone and the meat was stolen from the game bags. The thief was so confident the men wouldn't come after him, he didn't cover his tracks, which were the footprints of a large grizzly — much larger than Jack's size 13 boot (pictured).
Says Jack...."We thought we were at the top of the food chain until the bear came along."
Excellent served with Balsamic Red Cabbage. For additional photographs from the hunt and cooking process, click here.
Yield: 4-6 servings
Refrigeration Time: 6-24 hours
Active Time: 35 minutes
Roast Time: 20-30 minutes
Ingredients:
2 teaspoons cardamon seeds
1 teaspoon coriander seeds
1 teaspoon juniper berries
1 teaspoon garlic powder
1 teaspoon black peppercorns
2 bay dried leaves
2 tablespoons brown sugar
2 1/2 - 3 pound caribou loin
3 tablespoons grape seed or canola oil
1/2 cup beef stock
1/2 cup red wine
1/2 stick (1/8 pound) unsalted butter
12 or more simmered and peeled white pearl onions
Directions:
1. In an herb or coffee bean grinder, grind cardamon, coriander, juniper, garlic powder, black peppercorns, bay leafs, and brown sugar.

2. Season both sides of caribou loin with kosher salt. Rub ground herbs over both sides of loin and rub over caribou.

3. Refrigerate at least 6 hours and up to 24. Let come to room temperature before cooking.

4. Preheat oven to 425 degrees.

5. In a cast iron skillet or heavy bottom fry pan, heat grape seed oil to high heat. Sear caribou on both sides, at least 5 minutes per side without jiggling pan, or until golden brown on both sides. Remove and place on foil-line baking sheet or in a roasting pan on middle rack of oven, reduce heat to 350 degrees, and cook 20-30 minutes depending on thickness of fillet. (Caribou is best served rare until an internal thermometer registers 120-130 degrees.)

6. Deglaze cooking skillet with wine and stock. Reduce a couple of minutes over high heat, scraping sides of pan with a whisk, reduce heat to low and stir in butter and onions. When caribou is cooked, with a very sharp knife, cut into slices against the grain, and stir into sauce to coat both sides of caribou. Serve.
Peggy Lampman is a real-time food writer and photographer posting daily feeds on her website and in the Food & Grocery section of Annarbor.com. You may also e-mail her at peggy@dinnerfeed.com.