Posted on
Thu, Dec 1, 2011 : 8:58 a.m.
Carrot-Ginger Soup with Thai Flavors a versatile, warming dish
By Peggy Lampman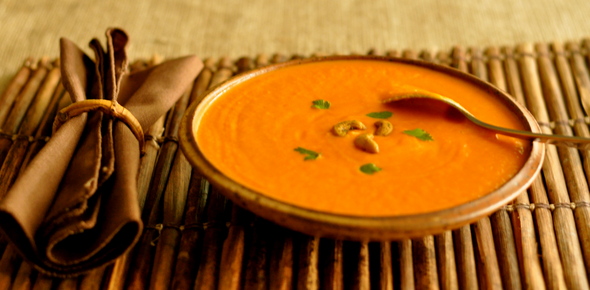 Carrot-Ginger Soup with Thai Flavors

Hey readers. It's me — Peggy. I feel so alone. Like I'm penning scriptures to roll into a bottle, then cast into the ocean for some lonely heart to read. Could that lonely heart be you? Are you actually out there reading — gasp — a food blog? And after the exigencies of Thanksgiving, no less.
Don't you have anything better to do with your time? Why aren't you out shopping with the rest of the crowd?
A voice wells up through a ocean swell. You say crowds make you nervous and you'd rather cook — or would rather at least read about cooking, until the throngs subside. Well, me too. You've got a friend; pull up a chair.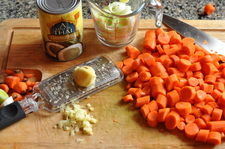 Let's give each other a breather from the exigencies of the season. How about concocting something rich with autumn color, yet leaves the flavors of Thanksgiving behind? A recipe that's not so Plymouth Rock, but not quite ready to deck the halls.
What follows is an adaptation of my favorite carrot soup recipe that I love to mess around with. Seasonings may be as simple or sophisticated as your palate prefers. Would you enjoy something with the essence of carrot, and simple enough to serve a toddler? Eliminate the ginger, garlic, peppers and cilantro. I've discovered kids love coconut milk, so you could leave that in, or substitute cow's milk.
Perhaps you're craving the flavors of Mexico. Substitute cumin for the ginger, chopped cilantro and peppers for the nuts, and "Hola, Oaxaca." Warsaw on your mind? Dill for ginger and sour cream for milk. Why not? It's a small world, after all.
The ideal make-ahead, this savory soup remains delicious for up to four days, refrigerated. It may also be served in apertif glasses as a prelude to a larger meal. This soup may provide the sustenance you'll need for braving the crowds, or whatever the holidays have in mind.
Yield: 4 1/2 cups rich soup (2 main course serving; 4-6 appetizer servings)
Active Time: 30 minutes
Simmer Time: 35-40 minutes
Ingredients
1 tablespoon peanut oil
1 leek (1/2 - 3/4 cup), well-washed and thinly sliced
1 tablespoon grated or finely chopped ginger
1 teaspoon minced garlic
1/2-1 teaspoon finely chopped Thai pepper*, optional
1 pound carrots, peeled and chopped into 1-2 inch pieces
2 cups vegetable or chicken stock
1 can (apx. 13 ounces) coconut milk
2-3 tablespoons Asian-spiced cashews or almonds, left whole or coarsely chopped**
1 tablespoon chopped cilantro, optional
* Wear plastic gloves when chopping hot peppers; the seeds and membranes (placenta) are where you'll get the fiery heat.
**Trader Joe's has a variety of Asian-spiced nuts from which to choose; I selected Thai Lime & Chili Cashews; I've also used Eden Tamari Almonds
Directions
1. Heat oil in a heavy-bottomed stockpot or Dutch oven. Add leek and saute over medium heat for 2-3 minutes, until softened. Add ginger and garlic and sauté an additional minute, stirring.
2. Add stock and carrots and bring to a boil. Reduce heat to simmer and cook, uncovered, 15 minutes. Stir coconut milk into pan and continue cooking until carrots are very tender, an additional 20-30 minutes.
3. Puree in pot with an immersion blender or transfer in batches to a food processor. Season to taste with kosher salt. Garnish with Asian-spiced cashews, almonds or peanuts and serve.

My new web site (packed with holiday recipes) is up (www.dinnerFeed.com)! I'm a real-time food writer and photographer posting daily feeds on my website and in the Food & Drink section of Annarbor.com. You may also e-mail me at peggy@dinnerfeed.com.