Posted on
Tue, Aug 6, 2013 : 2:30 p.m.
Casserole cooking 'au pif' with a French tian
By Kim Bayer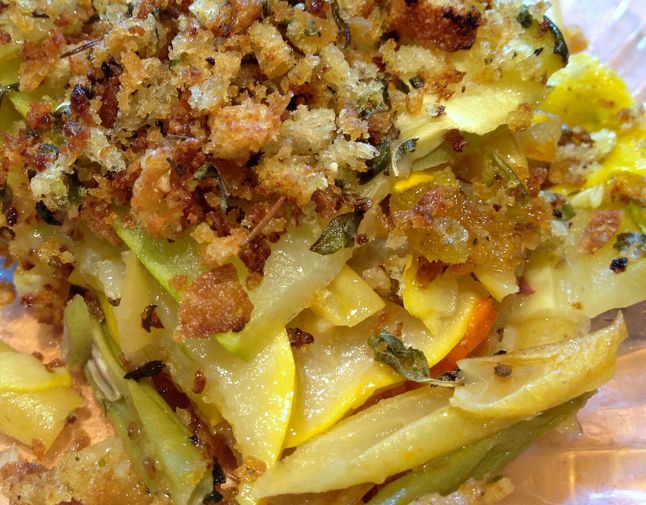 Photo | Kim Bayer
The calendar may say August but the weather is saying September these days and it's making me want to eat something warm and comforting. A Provencal tian, a vegetable casserole (and baking dish) from the south of France, is perfect right now. You layer whatever is in season (zucchini, tomato, potato, green beans, etc), along with garlic, herbs, plenty of olive oil and maybe some breadcrumbs or cheese, and bake until it's done. Voila!, le diner est servi!
Making a tian is a perfect example of what in French is called cooking "au pif," translated literally as cooking "by the nose" or "schnoz." It's the kind of instinctive cooking I most like to do — using up whatever is in the kitchen by any means necessary. A tian can include almost anything — squash, grains, eggplant, anchovies, and sweet potato are all fair game. It does help if you use the slicing blade of a food processor; then you can just layer and bake.
The crucial components are: wide and shallow baking dish, lots of olive oil, herbs and garlic, with plenty of onion and tomato on the bottom. Bake covered until almost tender and then uncover to brown and crisp. Do I need to say that a glass of dry rosé is a fitting accompaniment?
Here's an approach I like, but feel free to "pif" it up to your own specifications:
Ingredients

4-5 tablespoons olive oil
2 cup breadcrumbs
2-4 tablespoons finely chopped herbs - like thyme, tarragon, marjoram
1-2 large onions, sliced thin
2-3 cloves garlic, chopped fine
2-3 medium tomatoes, chopped
2-3 medium zucchini, sliced 1/4-inch thick
4-5 medium small potatoes, sliced 1/4-inch thick
1-2 cup cleaned green or yellow beans, sliced 1/4-inch thick

Oil a large casserole dish - like a 9x13-inch Pyrex baking dish or something fancier.
Heat 2 tablespoons olive oil in a large skillet, Add breadcrumbs and toast until just brown. Add herbs. Cool and set aside.
In the same skillet, heat remaining olive oil. Add sliced onions and cook until soft and caramelizing, Add garlic and tomato. Maybe throw in a little wine. Salt and pepper. Cook until thickened and then put in the bottom of the casserole dish.
Fit slices of potato, overlapping slightly, in one layer. Then do the same with zucchini slices. Then some green beans. Repeat until all are used up or the pan is full. (If you want to get fancy, you can put the slices in vertically, on edge, instead of laying them in horizontally. This takes longer but makes a nice presentation.) Sprinkle with more thyme and olive oil.
Cover with foil and bake for 30-45 minutes at 375 degrees. Remove foil, sprinkle with herbed crumbs, bake another 20-30 minutes at 400 degrees.
Kim Bayer is a freelance writer and culinary researcher. Email her at kimbayer at gmail dot com.