Posted on
Wed, Mar 7, 2012 : 2:50 p.m.
Roasted cauliflower and aged white cheddar soup
By Jessica Webster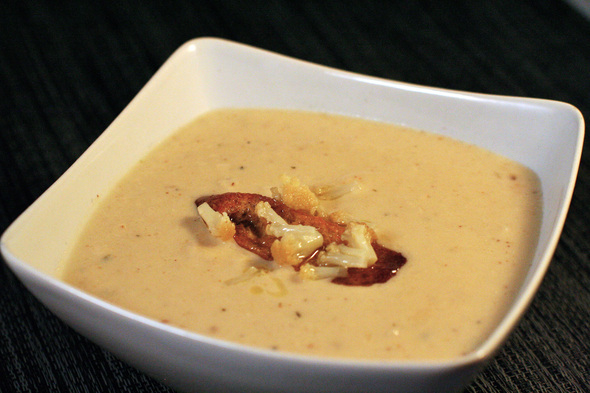 Jessica Webster | AnnArbor.com
NPR had a feature last week on the increasing influence of social media and the internet on American cooking. According to a report from a consumer research firm, half of American food consumers use social media like Twitter and Facebook to learn about food, and an additional 40 percent list a dependence on food blogs, websites and apps to do their food and recipe research.
These days, a large section of the population is more likely to get inspiration for tonight's dinner from a friend's Facebook post than they are from a dog-eared family recipe, a food magazine or a trusted cookbook. The good news is that with this widespread online food culture, people are becoming far better informed about food sources, and this has led to a shift away from processed foods.
My recipe searches usually hit all of the above. Both of my parents are excellent, adventurous cooks, so I often find myself stealing recipes from them. I subscribe to (too many) food magazines and still regularly buy cookbooks. But more and more, I find myself cooking from recipes and ideas I find online.
Sometimes it's just a photo snapped by a friend that's posted on Facebook. My friend Tobias posted a picture of his breakfast a few years ago — over-easy eggs cooked in olive oil and black pepper and topped with fried sage. That quickly became my favorite Sunday breakfast recipe.
I've got my stable of favorite food bloggers — my fellow AnnArbor.com food writers Peggy Lampman and Mary Bilyeu, online food gurus like Smitten Kitchen and The Pioneer Woman and the occasional Food Network personality. But I'm always exploring; looking for simple, tasty recipes made with fresh ingredients.
My most recent discovery was a blog written by a Canadian foodie named Kevin who cooks out of his closet-sized kitchen. He recently shared a recipe for cauliflower soup that sounded too good to pass up. I'm a big cauliflower fan, but hadn't yet found a recipe that I could get my 10-year-old to eat. I'm happy to report that the whole family loved this cauliflower and white cheddar soup, and my son even asked to have it in his lunch the next day.
I altered the original recipe only slightly. Since I'm a sucker for roasted garlic, I added a handful of cloves in with the cauliflower to roast. This way you get both the sweet, mellow flavor of roasted garlic and the sharper taste of the minced and sauteed garlic. I also wanted a slightly thinner, more soupy soup, so I increased the amount of vegetable stock to four cups.
It can be hard to find a flavorful aged sharp white cheddar that doesn't set you back an arm and a leg. For some recipes, you can go with a milder cheese without affecting the dish adversely. But here the cheese adds a nice subtle tang and creaminess, so I chose a three-year Australian cheddar that was priced toward the middle of the pack.
Cauliflower and white cheddar soup - adapted from ClosetCooking.com

Ingredients
1 medium head cauliflower, cut into florets
4 whole, peeled garlic cloves
3 tablespoons olive oil
salt and pepper to taste
1 medium onion, diced
2 cloves garlic, chopped
1 tablespoon thyme, chopped
4 cups vegetable broth
1 1/2 cups aged white cheddar, shredded
1 cup milk, cream or half and half
salt and pepper to taste
Directions
Toss the cauliflower florets and whole garlic cloves in two tablespoons of olive oil along with the salt and pepper and arrange them in a single layer on a large baking sheet.
Roast the cauliflower in a preheated 400-degree oven until lightly golden brown, about 20-30 minutes.

Heat the oil in a large saucepan over medium heat.
Add the onion and saute until tender, about 5-7 minutes.
Add the garlic and thyme and saute until fragrant, about a minute.
Add the broth and cauliflower, bring to a boil, reduce the heat and simmer, covered, for 20 minutes.
Puree the soup until it reaches your desired consistency with a stick blender or in batches in a blender.
Mix in the cheese, let it melt and season with salt and pepper.
Mix in the milk (or cream) and remove from heat.
Serves 4-6.
Jessica Webster leads the Food & Grocery section for AnnArbor.com. You can reach her at JessicaWebster@AnnArbor.com.