Celebrate World Nutella Day in Ann Arbor
Posted on Fri, Feb 5, 2010 : 10:20 a.m.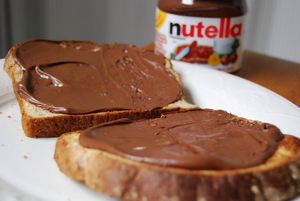 Photo by Flickr user love♡janine

Happy World Nutella Day! What? You're not celebrating? Not up on the latest weird food holidays? I must admit that I've missed a few myself. I totally forgot to celebrate National Irish Coffee Day. And you couldn't pay me enough to celebrate National Corn Chip Day. But Nutella Day, that's a holiday I can get behind.

So now that you know, it's time to celebrate! If you don't happen to have a container of the delicious hazelnut chocolate spread around your house, you can head to downtown Ann Arbor. I am well acquainted with Café Zola's Nutella Banana Crepes, a dreamy combination of Nutella, ice cream, banana slices, toasted almonds, crème Chantilly and raspberry sauce, and recommend them without reservation.

A quick call to Café Felix confirms that they too celebrate World Nutella Day every day of the year. You can take your pick between a Nutella and ice cream crepe, or a crepe filled with strawberries and bananas and drizzled with Nutella. And if you're quick, you might still be able to grab one of Café Japon's amazing banana Nutella croissants

If you choose to celebrate Nutella Day at home, there's a wealth of choices available. The easiest (and my favorite) is to pretend you're in Europe and just slather it on a baguette. If you're looking for something a little more complicated, you can find more than 400 recipes for everything from drinks to tiramisu on the World Nutella Day site.

Just want to find some pictures to drool over? There's a Flickr pool full of enticing photos you can check out. Eating Nutella alone? Bleeding Espresso has a list of the top 10 reasons nutella is better than a boyfriend.

What are you doing for World Nutella Day?