Posted on
Thu, Sep 5, 2013 : 5:59 a.m.
Celebrating the late summer harvest with heirloom tomato and burrata salad
By Jessica Webster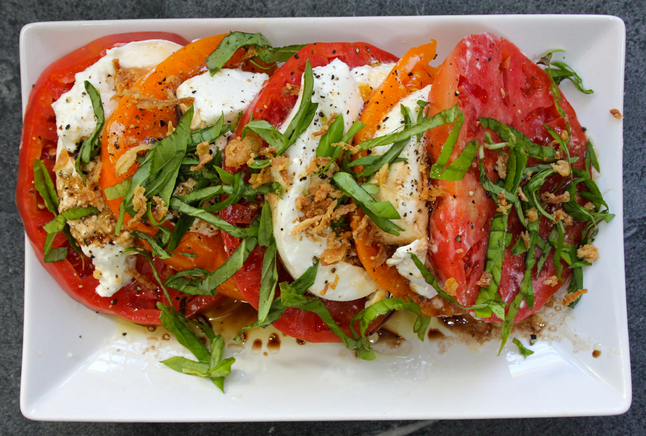 Jessica Webster | AnnArbor.com
When tomato season is in full swing, I have a difficult time convincing myself to eat anything else. A fresh, ripe, funky-looking
heirloom tomato
puts most other foods to shame. It's sweet and tangy and so very, very good.
I've been incorporating tomato and basil into many of my meals, from layering it between slices of toast and fried eggs to eating it solo with just a little bit of salt and pepper as a dinner side.
By far my favorite tomato preparation this year has been a simple tomato and burrata salad, a slight variation on the insalata Caprese.
Buratta is a fresh Italian cheese made like mozzarella, but with a twist. The cheese is filled with a cream and cheese mixture that oozes out when you slice into it. It's creamy and decadent and delicious.
You can find burrata at most of the upscale grocery stores, Trader Joe's, and Zingerman's Creamery.
Because this is a creamy, messy cheese, you're not going to have the neat, defined lines of a typical mozzarella and tomato salad. That's ok. It's so ridiculously delicious, you don't even notice the messiness.
I topped my salad with frizzled shallots, which are a favorite indulgence. If you're not up for frying your own shallots, there are some prepackaged fried shallots available in many grocery stores.
Local, in-season tomatoes taste really great right now, and many local grocery stores are stocking them. Make sure you're not buying hothouse tomatoes — they're just fine in a pinch, but there's not reason to buy them when you've got better choices.
If you want the most flavorful tomato experience, head to the farmers market or your favorite produce market and pick up some heirloom tomatoes. They're usually available in an assortment of colors and varietals and might look a little bit funky, but they're generally the sweetest tomatoes available for purchase.
Heirloom tomato and burrata salad
4 shallots, peeled and thinly sliced in rings
1/3 cup all-purpose flour
vegetable oil, for frying
2 large, ripe heirloom tomatoes at room temperature
2 rounds of burrata cheese
1/4 cup extra virgin olive oil
2 tablespoons balsamic vinegar
1/3 cup fresh basil
freshly ground black pepper
sea salt

Preparing the shallots: Separate shallots into individual rings and toss them with flour.

 In a small saucepan, heat about 1 inch of oil to approximately 350 degrees. Fry shallots in batches until crisp and golden, about 2 to 4 minutes. Using a slotted spoon, transfer to paper towel-lined plate and set aside.
Preparing the salad: Chiffonade the basil. (Chiffonade is just a nice way of saying that you take the basil leaves, roll them into a nice, tight roll, and slice into ribbons.)
Core the heirloom tomatoes and slice them into 1/3-inch to 1/2-inch slices. Sprinkle the tomato slices with salt and pepper.
Carefully slice the burrata. Once you've cut into it, the creamy center will start to run out. That's ok; this is going to be a messier salad than your typical Caprese.
On a plate, layer slices of tomato and slices of burrata. Move the burrata from the cutting board to the plate using a spatula and a spoon. Again, this will be messy, but it's delicious.
Drizzle the olive oil and balsamic vinegar over the tomato and cheese, then sprinkle the basil and frizzled shallots over top. Serve immediately.
Serves 4 as an appetizer.
Jessica Webster leads the Food & Grocery section for AnnArbor.com, a part of the MLive Media Group. Reach her at JessicaWebster@annarbor.com. You also can follow her on Twitter or subscribe to AnnArbor.com's email newsletters.