Food & Drink:

When all else fails, go with ceviche

Posted on Thu, Dec 9, 2010 : 9:45 a.m.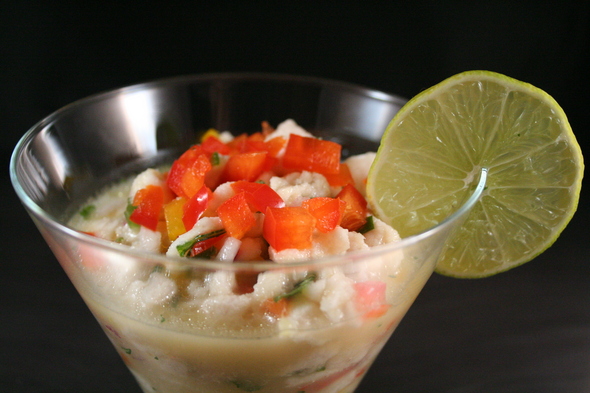 Jessica Webster | AnnArbor.com

As a devotee of the television program Top Chef, I have always viewed ceviche as more of a punchline than anything else. For Top Chef competitors, the mantra seems to be "when all else fails, go with ceviche." Cactus ceviche. Octopus ceviche. Tofu ceviche. Is there nothing these cheftestants won't "cook" in citric acid?


Then last week, as I pondered the subject of this week's column, I heard a little voice in the back of my head: "When all else fails, go with ceviche." Was it the voice of former Top Chef competitor and Ann Arbor restaurateur Eve Aronoff, whose ceviche — despite her dismal showing on Top Chef — is delicious? Maybe, but I think it's more likely that it was my own inner voice, responding to the reader who cornered me last week to point out that my recipes "aren't exactly high-end gourmet." Ceviche. That'll show her.

Peru claims ceviche as its national dish, but most Latin American countries have their own spin on it. Ceviche didn't get a toe-hold in the United States until the 1980s, and it wasn't until very recently that it became so trendy. The dish, at its heart, is raw fresh seafood marinated in citrus. The seafood proteins are denatured in the citric acid, and the flesh ends up firm and opaque.

The key is to start with very fresh white fish — sea bass if you're going for the authentic Peruvian experience. I strongly recommend talking to a trusted fishmonger when buying fish for your ceviche. Let them know you're looking for sushi-grade fresh white fish. They might steer you toward a grouper, wahoo, sea bass or red snapper, depending on what's the most fresh that day. Monahan's Fish Market is a great resource if you are in Ann Arbor.

This recipe, adapted from Emeril Lagasse, has a nice tropical flavor thanks to the lime, pineapple and orange juices. It calls for serrano pepper, but you can easily replace with jalapeno or milder peppers if you prefer to forgo the heat.

Ingredients
12 ounces very fresh (sushi-grade) white-fleshed ocean fish, such as grouper, wahoo, sea bass, or red snapper
1/3 cup fresh lime juice
3 tablespoons fresh orange juice
3 tablespoons pineapple juice
1 1/2 tablespoons finely diced serrano or jalapeno pepper, depending on your preference
2 tablespoons finely diced yellow bell pepper
2 tablespoons finely diced red bell pepper
1 1/2 tablespoons minced red onion
1 teaspoon minced garlic
2 tablespoons chopped fresh cilantro leaves
1 tablespoon good quality extra-virgin olive oil
1/2 teaspoon kosher salt
Lime wedges, for serving

Directions
Cut the fish into 1/4-inch diced pieces. Place in a glass dish with the lime juice, orange juice, pineapple juice, peppers, onions and garlic, tossing to coat. Cover and refrigerate for 3 to 4 hours, stirring occasionally.

Add the cilantro, olive oil and salt. Fold gently to mix. Serve ceviche in martini glasses and garnish with lime wedges.

Jessica Webster leads the Food & Drink section for the AnnArbor.com community team. You can reach her at jessicawebster@annarbor.com.