Posted on
Tue, Jan 29, 2013 : 7 a.m.
'Changing the Way We Eat' at TEDxManhattan and the UM Sustainable Food Program
By Kim Bayer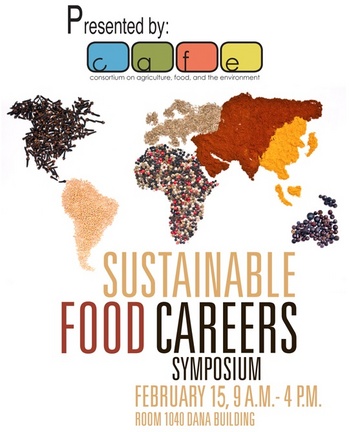 From the CAFE website
There's a wonderful quote by author Martin Keogh that goes, "When asked if I am pessimistic or optimistic about the future, my answer is always the same: if you look at the science about what is happening on earth and aren't pessimistic, you don't understand the data. But if you meet the people who are working to restore this earth and the lives of the poor, and you aren't optimistic, you haven't got a pulse."
One chance to see and hear many of the people who are working on a better future will be Feb. 16 at a day-long program featuring national food system luminaries presenting at the TEDxManhattan live webcast called "Changing the Way We Eat."
This event, from 10 a.m.-5 p.m. at the University of Michigan's Dana Building is co-hosted by the UM Sustainable Food Program and Slow Food Huron Valley (of which I am a board member). It is free and open to the public. Talks during the day will include speakers like farm-to-school chef Ann Cooper, author Anna Lappe and "eco-hero" Simran Sethi.
Seeing students coming together to lead change through the UM Sustainable Food Program is also reason to feel optimistic. The UMSFP coalition is an umbrella organization for nearly a dozen food/nutrition and gardening/farming groups on campus — from the UMBees (promoting and protecting honeybees) to the new Food Recovery Network (a food rescue and waste reduction effort).
Groups from the UMSFP coalition have several events coming up in February, including a discussion and dinner hosted by the Michigan Sustainable Foods Initiative (UMSI) at Rackham on Feb. 1 called "Talk with your mouth full." The event requires an RSVP, and they say, "Bring an appetite for delicious local food from Ann Arbor restaurants and your best food stories! Those who share their stories will have a chance to win prizes."
The CAFE group (Consortium on Agriculture, Food and the Environment) has put together a free day-long sustainable food careers symposium Feb. 15 "to hear and meet speakers from around Ann Arbor, Michigan, and across the country, all coming from a wide range of backgrounds in academia or with nonprofits, small businesses, big companies and farms." The program for the day will include panel discussions on topics like: Education and Community, Equity and Justice, and Entrepreneurship and the Private Sector.
A wonderful article by Carolyn Raffensperger beautifully described a powerful rationale for scaling up participation in making change. Raffensperger describes the powerlessness and resulting depression many of us feel from the "moral injury stemming from our participation in (the) destruction of the planet."
We can see the widespread degradation from our collective actions, like the dead zone from agricultural runoff in the Gulf of Mexico or animals tortured in feedlots, but as individuals have no way to stop. She says the moral injury comes from our complicity in the system and it "has two dimensions: knowledge of our role and an inability to act."
Raffensperger argues that it's not enough to simply reform our individual lives. We have to come together to meet the scale of the challenges. I see optimism in the fact that there are starting to be numerous mechanisms for working together toward larger goals.
Kim Bayer is a freelance writer and culinary researcher. Email her at kimbayer at gmail dot com.