Posted on
Tue, Feb 12, 2013 : 11:45 a.m.
Local options available to sample and learn about cheese, glorious cheese
By Kim Bayer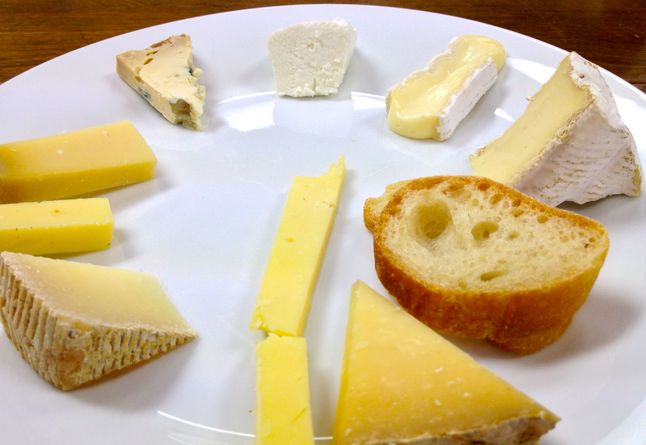 Kim Bayer | AnnArbor.com Contributor
"Cheese - milk's leap toward immortality" — Clifton Fadiman
One of the only highlights of these dreary days of winter is that it's fondue time of the year. If you love cheese too, how do you expand your horizons beyond the vacuum-sealed, plastic-wrapped white and orange bricks? How do you learn your Tomme from your Epoisses and step into the glorious world of naked artisan cheeses?
One option is to read about it first, by checking out the Cheese Primer or the Murray's cheese handbook from the library. Or, for a closer encounter, trot over to Zingerman's or Morgan and York's cheese case for a few samples. Or you can leap headlong by taking a class.
Zingerman's offers a three-day intensive Cheese Mastery Class that is probably incredible, but it's also incredibly expensive at $1,250. There are a still a couple of great, lower-entry options for folks without that kind of bread for their cheese.
The best cheese class option I know used to be the regularly scheduled tasting workshops at Morgan and York, offered now only by special arrangement with Simone Jenkins. With a background of experience at the famous Neal's Yard Dairy in London, Jenkins was working as a consultant for Zingerman's when she met and married Matt Morgan (the Morgan that goes with York). So she brings some very interesting expertise and enthusiasm to her class.
Last Friday, I invited a dozen of my girlfriends to a specially arranged introductory cheese class taught by Jenkins. For a $35 entry price, we each ate our way through nearly a pound of cheese as we learned about the main styles of cheese making around the world, tasting our way from Ann Arbor to England to France and back to Vermont.
We learned that all cheese is derived from basically the same recipe of milk, starter and rennet, and that it is primarily due to the terroir and the techniques of the cheese maker that so many new forms and flavors are created. From soft tart goat cheese made in town by John Loomis, to mold ripened Brie and mushroomy Camembert, to cooked curd Comte mountain cheeses, and blue cheese from the caves of Auvergne in France, we learned that cheese is a living food that continues to develop and transform.
Another option in cheese education, as a friend recently told me is a Michigan Cheese Tasting coming up this week on Feb. 15 at the Ugly Mug Cafe and Roastery in Ypsilanti. Cheesemaker Aubrey Thomason of Zingerman's Creamery will lead a discussion on the process and chemistry of cheese making, and she will be "presenting Michigan milk cheeses from small scale goat and rare breed cow's milk dairies." Cost is only $5-$10, and sign up in advance is required.
If that's too long to wait, here's a Mardi Gras Meltdown pop up dinner of all things cheesy at the Zingerman's event space on Tuesday, Feb. 12 starting at 5 p.m. Raclette, poutine, mac and cheese, tuna melt, grilled cheese sandwich and fried cheese salad are among the options.
This could be the year of great cheese experiences. As one of my friends at our class said, "life's too short to eat bad cheese."
Kim Bayer is a freelance writer and culinary researcher. Email her at kimbayer at gmail dot com.