Posted on
Fri, Apr 26, 2013 : 4:03 a.m.
Cheese Omelet with Spring Herbs is perfect when you crave breakfast for dinner
By Peggy Lampman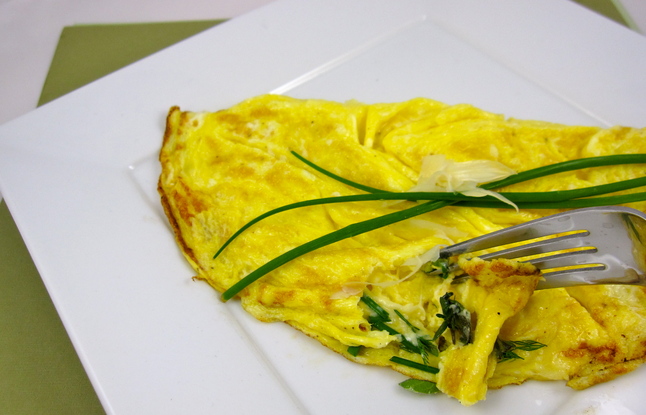 Peggy Lampman | Contributor

My dinnerFeed web site is a lean, mean fighting machine! To receive my lastest dinnerFeed posts by email, sign up here.
An omelet for dinner? Why not.
It's the perfect end of the day food, when energy is zapped, you don't feel like spending much time cooking, and crave a good protein fix. Omelets are the perfect canvas, as well, for using up any bits of leftover cheese and what-not roaming in your fridge.
Clarified butter and half-and-half make the best omelets to my taste. Clarified butter means heating butter, then straining off the top and straining the bottom liquid. If time doesn't allow, take care to insure you don't burn the butter over the medium-high heat, by lowering heat if necessary.
A non-stick skillet is fine for making omelets, but I prefer my heavy-bottomed pan with a stainless steel (stick free) interior. The 8-inch diameter makes the perfect sized omelet.
Time: 10 minutes
Yield: 1-2 servings
Ingredients
2 teaspoons unsalted butter, clarified if time allows
3 large eggs, room temperature
2 tablespoons half-and-half, milk or condensed milk
2 tablespoons chopped fresh herbs, such as chives, marjoram, dill, and basil
1/2 cup (lightly packed) grated Gruyere, Swiss or Cheddar
Instructions
1. Lightly whisk eggs and milk or half-and-half together with a pinch of kosher salt and freshly ground pepper.
2. Melt butter over medium-high heat. When butter is bubbly, add egg mixture to pan. With a spatula, pull up the just cooked sides of the omelet into the center, letting raw egg slide into hot pan. Sprinkle omelet with cheese and herbs. When cheese has just begun to melt, fold in half and serve garnished with herbs, if desired.
Peggy Lampman is a real-time food writer and photographer posting daily feeds on her website and in the Food & Grocery section of Annarbor.com. You may also e-mail her at peggy@dinnerfeed.com.