Posted on
Thu, Nov 17, 2011 : 8 a.m.
Cheesy cornbread - a tailgating side dish that pairs nicely with soups and chili
By Mary Bilyeu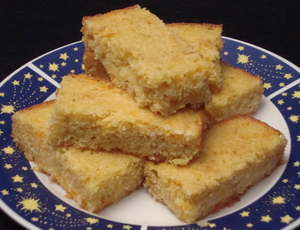 Mary Bilyeu, Contributor
I'm not Southern, but I still make a great cornbread! And, believe it or not, this recipe is actually a great way to represent both schools in honor of Saturday's Nebraska-Michigan game.
Nebraska, of course, is famous for its agriculture, particularly for beautiful corn. So cornbread seemed a perfect choice to offer for tailgating or for watching the game at home; it goes with chili, with soups, with salads ... you name it, it's hard to go wrong with cornbread on the side!
This recipe is not my own, I must admit. It comes from Jo Mathis, a reporter who used to write for The Ann Arbor News before its 2009 demise. I loved reading her columns, in which Jo wrote about daily life with her husband and her daughters; we readers all felt a part of her inner circle as she shared her heart and soul with us.
I remember one column in particular that told a story of travelling and about serendipitously finding great food. I don't know where the original clipping has wandered off to, so I can't tell you all of the details. But Jo managed to find the perfect slice of cornbread and finagle the recipe from the waitress, and then she generously shared it with all of her readers.
And what did she ask for in return? Chocolate. Recipes for any kind of chocolate treat. How could you not love this woman?
So today I'm featuring a recipe that pays tribute both to the corn that is so much a part of the state of Nebraska, as well as a recipe that comes from Ann Arbor's history. This is moist, flavorful, has great texture, and it's easy to make — what more do you need, other than lots of butter to slather on the cornbread?
Nebraska at Michigan
Saturday, Nov. 19 at noon EST
GO BLUE!
Be sure to visit my blog — Food Floozie — today to read a guest post from my blogging buddy Jenn. She's offering a fabulous recipe for a Nebraska classic: Runzas! If you don't know what they are, you need to read Jenn's story and learn about this exceptional tailgating food ....
Cheesy Cornbread
(slightly adapted from a recipe provided by Jo Mathis)
1/2 cup butter, at room temperature
1/2 cup sugar
2 eggs
1 cup creamed corn
1/2 cup flour
1/2 cup yellow cornmeal
2 teaspoons aluminum-free baking powder
1/2 teaspoon kosher salt
pinch of freshly ground black pepper
4 ounces Colby Jack cheese, shredded
Preheat oven to 350 degrees. Grease an 8x8-inch baking pan.
In a large bowl, cream together butter and sugar; mix in eggs, one at a time. Stir in creamed corn. Combine flour, cornmeal, baking powder, salt and pepper; stir into batter. Stir in cheese.
Pour batter into the prepared baking pan. Bake for 30 minutes, until cornbread is golden at the edges and a toothpick inserted into the center comes out clean. Cool, then cut into squares.
Makes 8 servings.
Note: Feel free to substitute sharp Cheddar or Pepper Jack for the Colby Jack, or to use a combination of cheeses. I've offered Jeremy's favorite version of the cornbread, but one of its many charms is its adaptability.
Starting today, I'm going to have "office hours" (to use university lingo) on Thursdays from 4-5 p.m. in the AnnArbor.com Community Space. Stop by, chitchat, schmooze, ask questions, have a cup of coffee, tell me what you're planning to make for dinner ... just come say "hi!"

Mary Bilyeu has won or placed in more than 60 cooking contests and writes about her adventures in the kitchen. She was thrilled to have her post about Scottish Oatmeal Shortbread named as one of the daily "Best of the Blogs" by the prestigious Food News Journal.
Go visit Mary's blog — Food Floozie — on which she enthuses and effuses over all things food-related. Her newest feature is Frugal Floozie Friday, seeking fun and food for $5 or less ... really! Feel free to email her with questions or comments or suggestions: yentamary@gmail.com.
The phrase "You Should Only Be Happy" (written in Hebrew on the stone pictured in this post) comes from Deuteronomy 16:15 and is a wish for all her readers as they cook along with her ... may you always be happy here.