Posted on
Thu, Aug 22, 2013 : 4:29 a.m.
Chef Alex's Barbecued Beer-Butter Chicken - recipe lets complex flavor of good poultry and beer shine through
By Peggy Lampman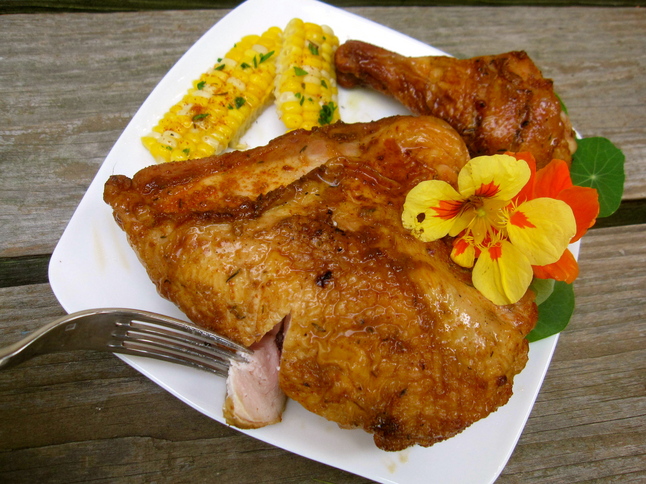 Peggy Lampman | Contributor

To receive my lastest dinnerFeed posts
by email, sign up here.
As sure as autumn leaves will turn to gold, in three short weeks (Friday evening, Sept. 13), The Ann Arbor Farmers Market will, once again, serve as backdrop for an Evening at the Farmers Market presented by Domino's for Ozone House Youth and Family Services. This is one of my favorite events of the year, and indulge me as I write you into the scenario, so that you might understand why.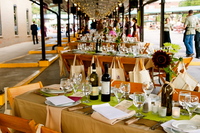 Sipping the event's signature "Market Buzz" from a Mason jar, your eyes wander to the rope configured to resemble a split rail fence, separating the event from the sidewalk, creating a world of twinkle lights draped over tables that are decorated with wildflowers and charming farmland-inspired place settings.
As you stroll the silent auction, selecting tantalizing goodies from the passed platters, your taste buds tingle, anticipating the farm-to-table meal created by James Beard Award Winning chef Alex Young of Zingerman's Roadhouse that's soon to follow.
Even more than these gustatory pleasures, you're pleased that you could be a part of such a feel-good evening, knowing the cash you forked out helps fund Ozone House's programs and services for young people who are homeless, or at risk of becoming homeless, running from unsafe situations or experiencing crises in their lives.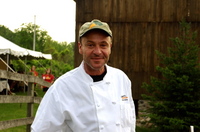 Now in its sixth year, this year's fundraiser is a collaboration between Ozone House and
Chef Alex Young
and their shared focus on community and youth outreach."The Roadhouse and I are honored to be a part of raising funds for Ozone House," says Chef Alex. "Finding safe and stable shelter for many of our local youth, helping them succeed and get back on their feet — that is a cause I believe in."
He created a menu especially for the event that will feature three entrees, including something for every palate: Catfish with Arugula Pesto; Barbecued Beer-Butter Chicken; and a vegetarian entrée, Farro Provencal.The menu will be complemented by a tomato bread salad and a delicious dessert from the pastry chefs at Zingerman's Bakehouse.
I was pleased to be given the following recipe from Chef Alex, featured in the evening's menu, that I recreated on my backyard barbecue pit, particularly delighted that this was a recipe reminding me of the barbecued chicken I enjoyed growing up in Alabama.
Chef Alex tells me, "It's somewhat unique up here in the north to not smother perfectly good chicken with super sweet red barbecue sauce. This sauce allows the simple complexity of the chicken, beer and wood to shine, one of my favorite ways to prepare and eat really good chicken.... Preparing good food from good farms for good people - that is what a great dinner is all about."
Hat's off, as well, to The Bar at Braun Court for creating the "Market Buzz", and — as in past years — Everyday Wines, Arbor Brewing Company, Mighty Good Coffee, and Arbor Springs for rounding out libations and beverages. Riki Tiki Pies is making small take-away pies for the fundraiser's participants.
I've attended this event many times and memories from past dinners should guarantee another sell-out crowd from a returning community of Ozone House supporters and food-loving participants.
The scoop: The date is Friday, Sept. 13, 2013, from 6-10 p.m. Seat reservations are $150 per person, payable at the time the reservation is made. If you would like to attend contact Sue Dvorak at 734-662-2265 ext. 26 to make a reservation. For further information visit www.OzoneHouse.org.
Yield: 8 pieces chicken
Barbecue Time: 2- 2 1/2 hours
Ingredients:
2 teaspoons kosher salt
2 teaspoons Ancho Chili Powder
1 teaspoon ground cumin
1 teaspoon garlic powder
1/2 teaspoon dried thyme
1/4 teaspoon chili pepper flakes
1 teaspoon black pepper
1 chicken, cut into 8 pieces
1/4 pound unsalted butter
1 cup good beer
Directions:
1. Make a rub by combining salt, chili powder, cumin, garlic powder, thyme, pepper flakes and pepper. Smear over all sides of chicken. (This may be done up to 24 hours in advance, refrigerated.)
2. Begin charcoal fire by lighting at least 6 cups of charcoal. When coals are red hot and covered with white ash, place your palm 2 inches above heat. If you can keep it there 6 seconds, your chicken is ready to grill (Grill temperature: apx. 250 degrees).
3. Move the coals to one side of the grill and place a drip pan on the other side.
Position the chicken over the drip pan. Maintain the 250 degree temperature, by opening and closing vents, while barbecuing. If using wood chunks or chips, add to the fire in the first hour of grill time, keeping the lid shut to smoke the meat.
4. Meanwhile, melt butter in a saucepan over low heat and stir in beer, using this mixture to baste both sides of chicken every 30 minutes until chicken is golden brown and crispy, keeping in mind that white meat cooks faster than dark, small pieces cook faster than large. (Internal temperature of meat: 165 degrees).
Peggy Lampman is a real-time food writer and photographer posting daily feeds on her website and in the Food & Grocery section of Annarbor.com. You may also e-mail her at peggy@dinnerfeed.com.