Posted on
Wed, Jan 9, 2013 : 3:15 p.m.
Chelsea Alehouse brings microbrewing back after 30 years
By David Bardallis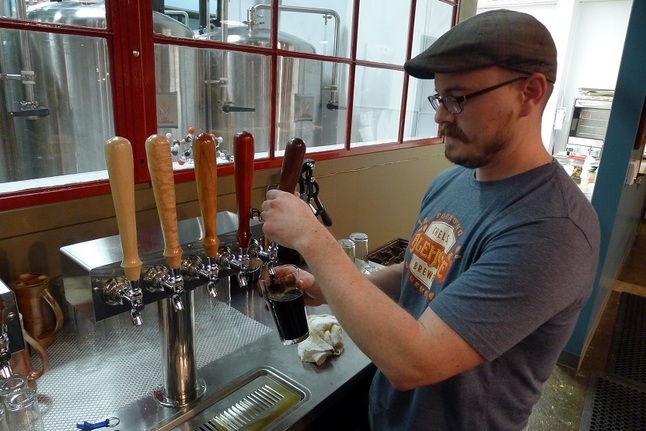 David Bardallis | Contributor
Elvis Costello may not want to go to Chelsea, but seekers after fresh, locally produced beer and an inviting environment in which to enjoy it will want to pay a visit to the new Chelsea Alehouse Brewery, which officially opened to the public last Thursday.
Owner and head brewer Christopher Martinson spent more than three years planning the brewery, located in the Clocktower Complex in Downtown Chelsea.
"We started with the basic questions, 'Will this work? What do I need? Where in Chelsea can we go?' then moved on to creating our business plan, raising capital, signing a lease, building the space out, and now here we are," says Martinson. "We're excited to be open."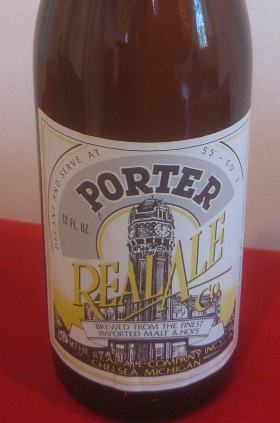 David Bardallis | Contributor
Chelsea has the distinction of having been home to Michigan's very first microbrewery, the Real Ale Company, which closed in 1983 after only a year in business. Though they live in Grass Lake, Martinson, who until 2011 worked in an Ann Arbor biotech lab, and wife Aubrey, a former executive director of the Chelsea Center for the Arts, thought it was time for Chelsea to rejoin Michigan's
craft beer
renaissance with a brewery of its own.
"It's great so many people are excited about what breweries offer communities," says Martinson. "Our goal is to build a really strong, community-focused pub, to give people something a little different that adds to the scene in Chelsea." (The brewery's location across the parking lot from the Jet's Pizza Sportsroom, which boasts more than a dozen Michigan brews on tap and more in bottles, will undoubtedly help create a downtown "beer magnet.")
The seven-barrel brewhouse, visible through a paned glass window behind the bar, was sourced through GW Kent, a brewery supplier in Ypsilanti, with the tanks fabricated by Marks Design and Metalworks in Vancouver, Washington. Martinson, a homebrewer for nine years, and associate brewer Eric Schneider are busy brewing several times a week to meet strong initial demand, including from the more than 800 people who joined the Founding Members mug club program.
The brewery is operating under limited hours (Thursday through Saturday) with a modest tap list and food menu for now, with more of all three to be added over time. Martinson anticipates that by the end of February, the Alehouse will be open six days a week and offering eight to 10 beers along with a wider variety of snacks, which presently include house-made salsa and hummus appetizer plates and three different sandwiches.
"We'll be adding menu items and increasing the variety of things we offer as we grow, adding soups and wraps and that sort of thing," he says. "We really want to make sure we're making food that pairs well with our beers."
Those beers included 402 E. Porter, Broad Reach IPA Silo White Ale, and Bog Trail Brown Ale for last week's opening, and Martinson says a black IPA and an oatmeal stout will debut this week. Growler fills are unavailable until he and Schroeder have enough beer in the pipeline to meet the demand. ("If we filled growlers now we might run out of beer," he laughs.)
The porter, a 6.2 percent alcohol-by-volume (ABV) brew that might fit in the "robust" category, and the white, a 4.5 percent easy-drinking witbier, were my favorites of the four. The IPA was strong at 8 percent and tasted a bit "young" to me, while the brown, a hoppy 5.9 percent American, was somewhat muddy, with low carbonation.
"Our white ale has been really successful as a beer on the lighter end of the spectrum," says Martinson. "Next we'll be brewing a rye IPA and an Irish red ale."
Plans for the future include live music, hand-bottled small batches, cask ales, outdoor seating, and, if demand warrants, a separate production brewery to potentially handle distribution.
"Our biggest challenge will be just making sure we always have a good rotation of beers," says Martinson. "So far everything's going well. It's been a positive experience, and I feel like I'm doing the right thing."
Related stories:
Beer blogger Patti Smith on the Chelsea Alehouse
Chelsea Patch story on the Alehouse
The Chelsea Alehouse Brewery, 520 N. Main St., Suite 100 (in the Clocktower Complex), Downtown Chelsea.
Hours: Thursday, 3-10 p.m.; Friday and Saturday, 3-11 p.m.
Web: www.chelseaalehouse.com.
Phone: 734-433-5500.
David Bardallis is a freelance writer and editor, blogger, bon vivant, and man about town. Visit "All the Brews Fit to Pint" at AnnArborBeer.com, follow @allthebrews on Twitter, or join the "All the Brews Fit to Pint" Facebook page. Email your beer-related thoughts to annarborbeer@gmail.com.