Posted on
Wed, Jul 24, 2013 : 3:30 p.m.
Cherry almond cake features Michigan-grown fruit
By Mary Bilyeu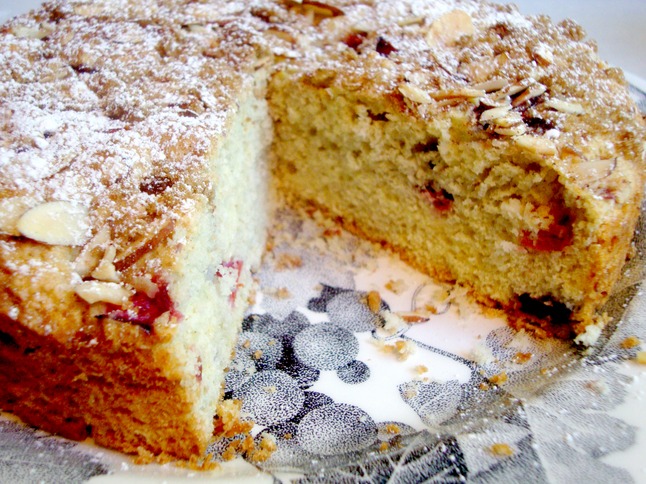 Mary Bilyeu | Contributor
I was the very happy recipient of generosity, lately: my ex-husband gave me more than a gallon of beautiful, bright red Montmorency
cherries
; and my dear friend Marilyn made a run to the Wednesday farmers' market while I was at work, then brought me two quarts of gorgeous, dark Balaton cherries. Two varieties of Michigan-grown tart cherries... oh, the ideas spun in my head! Unfortunately, I always have more ideas than time.
So on a Sunday morning — my favorite time to bake — I at least used a few of the fabulous fruits to bake this simple cake that goes beautifully with morning coffee, afternoon tea, or a cold glass of lemonade. Nothing fancy — and no frosting to melt in the heat. Just a lovely little summer treat...
Cherry Almond Cake
Cake:
1/4 cup margarine, at room temperature
1/4 cup + 2 tablespoons sugar
2 eggs
1/2 teaspoon vanilla extract
1-1/2 cups unbleached flour
2 teaspoons aluminum-free baking powder
1/2 teaspoon kosher salt
1/4 cup chopped Montmorency cherries
1/4 cup chopped Balaton cherries
1/2 teaspoon brandy
1/4 cup sliced almonds
1 tablespoon brown sugar
confectioners' sugar, for dusting
Preheat oven to 350 degrees. Generously grease an 8-inch round baking pan.
In a large bowl, cream together margarine and 1/4 cup sugar. Stir in eggs one at a time, then stir in vanilla. Stir in flour, baking powder, and salt.
In a small bowl, stir together all of the cherries, 2 tablespoons sugar, and brandy; let rest for 5 minutes. Fold cherries into batter, then spread batter into prepared pan.
Sprinkle almonds over batter, then sprinkle brown sugar over the almonds. Bake for 20-25 minutes, until cake is golden and a toothpick inserted into the center comes out clean. Let cool completely, then remove from pan.
Dust with confectioners' sugar, and then slice and serve.
Makes 8 servings.

Mary Bilyeu - a self-proclaimed Food Floozie (named for her blog, which is taking a summer vacation) - writes for AnnArbor.com on Tuesdays, Wednesdays, and Fridays, telling about her adventures in the kitchen. She is also on a mission to find great deals for her Frugal Floozie Friday posts, seeking fabulous food at restaurants on the limited budget of only $5 per person. Feel free to email her with questions, comments, or suggestions: yentamary@gmail.com.

The phrase "You Should Only Be Happy" (written in Hebrew on the stone pictured in this post) comes from Deuteronomy 16:15 and is a wish for all her readers - when you come to visit here, may you always be happy.