peggy lampman's dinnerfeed
recipe:

Chicken Cutlets and Brussels Sprout-Chive Sauce with Al Dente Chia Fettuccine - recipe is a nutritional powerhouse

Posted on Fri, May 18, 2012 : 4:02 a.m.
Peggy Lampman | Contributor

My dinnerFeed web site is a lean, mean fighting machine! To receive my lastest dinnerFeed posts by email, sign up here.
I used no ordinary pasta to soak up the sauces of Chicken Cutlets with Brussels Sprout-Chive Sauce. I made this recipe with Al Dente's latest creation; Bona Chia Spinach Fettuccini.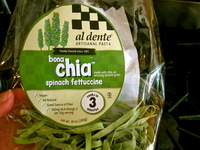 According to the
Al Dente pasta web site
, "...chia (is) a rediscovered ancient grain and superfood. -twice the protein of any other seed or grain; -five times more calcium than milk; -more fiber than bran cereal; -twice the potassium of bananas; -three times more iron than spinach -more antioxidants than blueberries. -nutritionally superior to flax and soy -possesses the richest non-marine whole food source of dietary fiber and Omega-3."
Whew. I've been looking for more ways to get chia seeds in my diet, and Al Dente has presented me with another easy and tantalizing option! To my palate, the addition of chia seeds did not compromise Al Dente's inimitable texture and bite.
Recently I used chia seeds when making a quinoa flake-based
chocolate pancakes
and have been sprinkling chia seeds in my oatmeal every morning. The seeds add a bit of poppy texture, and incorporating them into pasta is a brilliant way to deliciously, subtly employ this super grain in your diet.
The recent explosion of chives in my garden balanced the tart acidity of wine and tang of the top-drawer Parmesan I used in this recipe. In-season asparagus could easily be substituted for the brussels sprouts, but the simmer time would have to be reduced.
Yield: 4-6 servings
Time: 40 minutes
Ingredients
3/4 cup chicken stock
1/3 cup white wine
1 1/2 teaspoons corn starch
2 tablespoons extra virgin olive oil, divided
1 tablespoon butter, divided
3 boneless, skinless chicken breasts (1 1/2-2 pounds), each breast cut sandwich-style, horizontally, through the center to yield 6 cutlets
4 cups stemmed and halved fresh Brussels sprouts
1/2 cup snipped fresh chives, plus chive blossoms for garnish, if available
1/2 cup grated Parmesan cheese
8 ounces fettuccine (3/4 bag of Al Dente Chia Spinach Fettuccine)
Directions

1. Preheat oven to 200 degrees and bring a large pot of salted water to a boil. Combine stock and wine and whisk corn starch into mixture.
2. In a large heavy-bottomed sauté pan, heat 1 tablespoon olive oil and 1/2 tablespoon butter over medium heat. Lightly season the chicken cutlets with kosher salt and freshly ground pepper. Cook the breasts, in batches if necessary, until browned and just cooked through, about 3 minutes on each side. Remove the chicken from the pan, place on an oven proof platter, cover in foil and place in warm oven.
3.Whisk stock and wine mixture into the pan with the remaining tablespoon oil and 1/2 tablespoon butter. Stir in Brussels sprouts. Cook, occasionally stirring, until the brussels sprouts are just tender, about 8-12 minutes. Stir in chives, Parmesan and chicken juices accumulated at bottom of pan.
4. While brussels sprouts are simmering, cook the pasta according to package instructions; drain and divide on plates. Place chicken over pasta, cover with brussels sprout sauce and serve, garnished with chive blossoms, if using.