Posted on
Wed, Feb 6, 2013 : 8 a.m.
Chicken chili is easy and sure to please
By Mary Bilyeu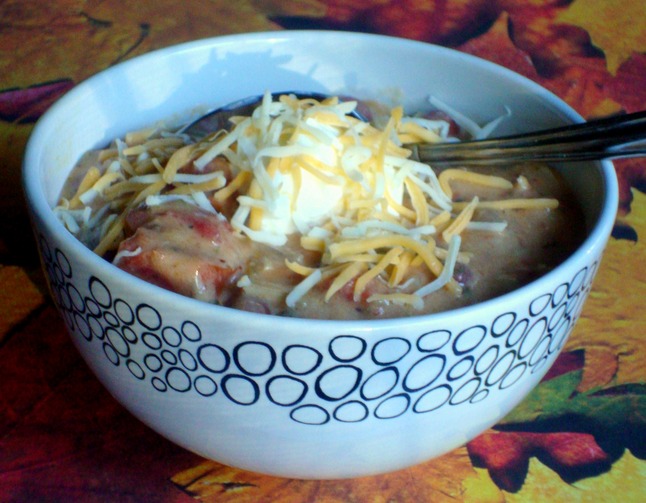 Mary Bilyeu | Contributor
It's winter in Michigan, so a recipe for a bowl of hot chili doesn't require a lot of explanation. It's cold out — who doesn't want something warm to eat?
Because convenience items are used — including a can of Progresso Recipe Starters which was sent to me for marketing purposes — this dish can be made very quickly after a long day. But the roasting of both the garlic in the sauce, as well as the tomatoes, provides extra depth of flavor.
Pair this with some cornbread and/or a salad, and you'll have a quick, easy meal that everyone at my house enjoyed.
Chicken Chili
3 tablespoons oil
2 large scallions, chopped
2 tablespoons garlic paste
1 small red onion, chopped fine
1 cup fire-roasted diced tomatoes
1 15-ounce can red kidney beans, rinsed
1 18-ounce can Progresso Recipe Starters Creamy Roasted Garlic
1/2 cup fresh salsa
1 tablespoon Adobo seasoning
1/2 tablespoon kosher salt
3/4 cup chopped cooked chicken
cheese and sour cream, for serving
In a medium saucepan, heat oil over medium heat. Add scallions, garlic paste, and red onion; saute until vegetables are translucent. Add remaining ingredients; bring to a boil, then lower heat to medium and cook for 10 minutes.
Serve hot, topped with cheese and sour cream, if desired.
Makes 4 servings.

Mary Bilyeu writes for AnnArbor.com on Tuesdays, Wednesdays, and Fridays, telling about her adventures in the kitchen - making dinner, celebrating holidays, entering cooking contests, meeting new friends ... whatever strikes her fancy. She is also on a mission to find great deals for her Frugal Floozie Friday posts, seeking fabulous food at restaurants on the limited budget of only $5 per person. Feel free to email her with questions, comments, or suggestions: yentamary@gmail.com.

Go visit Mary's blog — Food Floozie — where she enthuses and effuses over all things food-related; and look for her monthly articles in the Washtenaw Jewish News. "Like" her on Facebook, or send a tweet on Twitter, too.

The phrase "You Should Only Be Happy" (written in Hebrew on the stone pictured in this post) comes from Deuteronomy 16:15 and is a wish for all her readers - when you come to visit here, may you always be happy.