Posted on
Tue, Jan 15, 2013 : 8 a.m.
Chicken fried rice - leftover cold rice is a must for authenticity
By Mary Bilyeu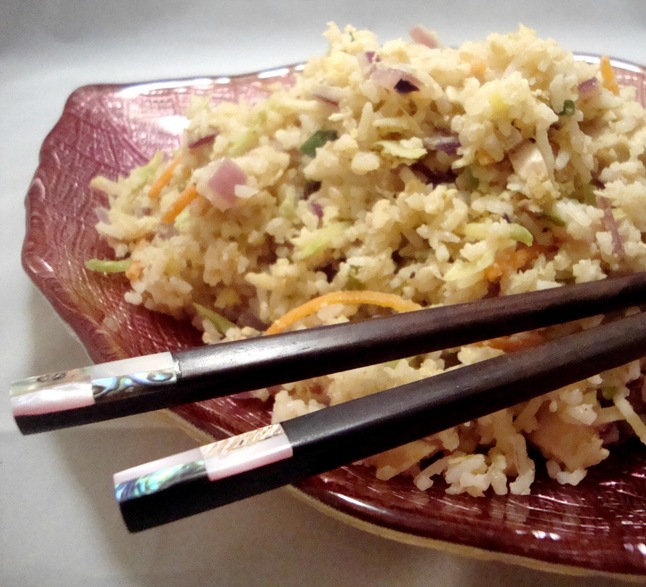 Mary Bilyeu | Contributor
I'm not much of a TV watcher. But I have to admit that
IF
I'm going to watch TV... big shock coming, prepare yourself!... I watch the
Food Network
. I know — wow! Good thing you were sitting down for that surprise, huh?
I watch "Chopped" and I watch "Diners, Drive-Ins and Dives." Both shows alternately annoy and fascinate me.
I can't stand Ted Allen, host of the former; he's completely superfluous, and doesn't even excel — Vanna-style — in performing his unnecessary tasks. (He could take some lessons — she's turned it into an artform!) I'm jealous of Guy Fieri, who gets paid to travel around the country to schmooze and eat.
And yet, I'm compelled to watch both shows. I want to see which odd and/or disgusting ingredients are required on "Chopped" and try to determine what dishes I might prepare with them. And I want to see all the incredible foods Guy gets to enjoy; watching the show always makes me hungry.
It was while watching "Diners" one evening that I decided I had to make fried rice. I don't know where the episode was filmed or who the chef du jour was; I missed part of the show. But I didn't miss the part where the cook had plain white rice, stirred scrambled eggs into it, and Guy pronounced that he was "making authentic fried rice."
Um, no.
Authentic fried rice is not merely rice that has vegetables and bits of egg tossed into it. The rice itself is fried, and the eggs cook along with the rice and other tidbits.
There are several requirements for making an authentic fried rice. First of all, you use cold leftover rice; it won't cook properly if it's warm, as steam will be an impediment. Also, the eggs are flavored with soy or teriyaki sauce before beating; and then the eggs and the rice are cooked together, rather than the former being stirred into the latter. It's a dish of unity, of the sum being greater than the parts rather than the parts all being assembled after being prepared separately.
So, here is a recipe for fried rice that follows all of the protocols and which is delicious. It was a huge hit at my house!
Chicken Fried Rice
2 tablespoons sesame oil
2 tablespoons rice vinegar
generous pinch red pepper flakes
1 small red onion, chopped
3 large scallions, chopped
1-1/2 cups packaged broccoli slaw
2-1/2 cups cold leftover rice
2 cups chopped pre-cooked chicken
2 eggs
3 tablespoons teriyaki sauce
generous pinch kosher salt
Heat the oil, vinegar, and red pepper flakes over high heat in a wok or a Dutch oven; cook for 30 seconds. Add onion, scallions, and slaw; cook, stirring occasionally, for 1 minute. Add rice and chicken; cook, stirring occasionally, for 2 minutes.
Whisk together eggs, teriyaki sauce, and salt.
Form a well in the rice mixture and pour the eggs into it; let cook for 30 seconds, then stir in a spiral, starting with the egg and working to the outer edge. Stir a few times, then let the rice rest to let the egg cook; repeat several times over the course of 2 minutes, until egg is cooked and rice is dry.
Serves 2-4.

Mary Bilyeu writes for AnnArbor.com on Tuesdays, Wednesdays, and Fridays, telling about her adventures in the kitchen - making dinner, celebrating holidays, entering cooking contests, meeting new friends ... whatever strikes her fancy. She is also on a mission to find great deals for her Frugal Floozie Friday posts, seeking fabulous food at restaurants on the limited budget of only $5 per person. Feel free to email her with questions, comments, or suggestions: yentamary@gmail.com.

Go visit Mary's blog — Food Floozie — where she enthuses and effuses over all things food-related; and look for her monthly articles in the Washtenaw Jewish News. "Like" her on Facebook, or send a tweet on Twitter, too.

The phrase "You Should Only Be Happy" (written in Hebrew on the stone pictured in this post) comes from Deuteronomy 16:15 and is a wish for all her readers - when you come to visit here, may you always be happy.