Posted on
Mon, Jun 17, 2013 : 12:44 p.m.
Chilled Roasted Tomato & Garden Herb Soup - roasting makes flavor richer
By Peggy Lampman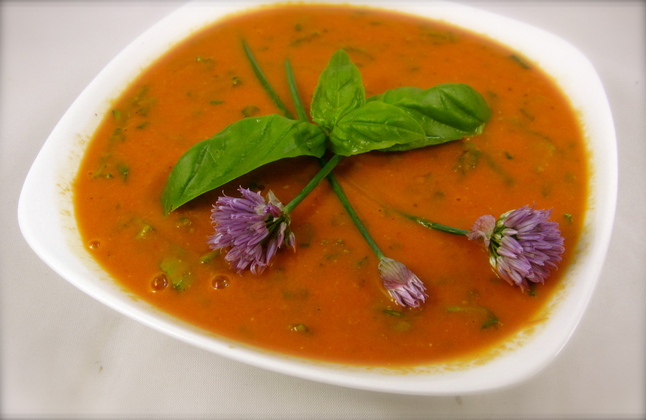 Peggy Lampman | Contributor

To receive my lastest dinnerFeed posts
by email, sign up here.
The rewards of growing your own herbs are abundant — if you've room to plant enough of them, there always seem to be several that need pinching back. This is a nice recipe for utilizing these odds and ends from your garden or pot.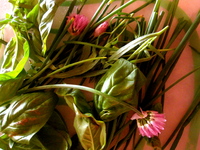 Roasting tomatoes adds a richness to their flavor; it also minimizes the acidity and sweetens them up. Local tomatoes weren't available to me at this writing (however I have seen them at the Farmers Market), but this technique really improves the flavor of not so great romas.
Here's a serious recipe short-cut to the one penned below - you'll lose some of the flavor but it's still pretty dang good if pinched for time: Roast tomatoes, per recipe, and puree reducing liquid in recipe to 1 1/2 cup of stock. Stir in herbs (making sure chives are a part of the herb mix) and chill.

Regarding chives, now so abundant, Bon Appetit wrote (March, 2013) a great article about using chives when cooking; check it out if your garden or herb box is overloaded.
Yield: 4 servings

Roasting Time: 75 minutes (inactive)

Soup Simmer Time: 30 minutes (inactive)

Active Time: 15 minutes
Ingredients:
12-14 plum tomatoes, washed then cut in half lengthwise

Extra-virgin olive oil, as needed

1 1/2 cups leeks, white and light green parts only, well washed and chopped

1 small fennel bulb (cored) or 2 celery stalks, washed and chopped

2 teaspoons finely chopped garlic

3 cups vegetable or chicken stock

1/4 cup well-chopped basil

1/3 (or more) cup chopped chives

2 teaspoons well-chopped tarragon
Directions
1. Preheat oven to 375 degrees.

2. Place tomatoes on a baking sheet and brush with 4 tablespoons of olive oil then season with kosher salt and freshly ground pepper.

3. Roast tomatoes until aromatic,very tender and shriveled, about 75 minutes
Heat 2 tablespoons olive oil in a heavy-bottomed pot or Dutch oven. Stir in leeks and fennel or celery and sauté 5-7 or until just tender; stir in garlic and cook an additional 2 minutes.
4. Stir in roasted tomatoes, with their juices, stock and bring to a boil. Reduce heat and simmer 30 minutes.
5. Pour ingredients into a blender or food processor and process until well-combined. Stir in basil, chives and tarragon and chill at least 3 hours and up to 24 hours. Season to taste with kosher salt and freshly ground pepper just before serving.
Peggy Lampman is a real-time food writer and photographer posting daily feeds on her website and in the Food & Grocery section of Annarbor.com. You may also e-mail her at peggy@dinnerfeed.com.