Posted on
Thu, Feb 7, 2013 : 4:05 a.m.
Fried Coconut Rice Balls with Shrimp & Bok Choy to ring in Chinese New Year
By Peggy Lampman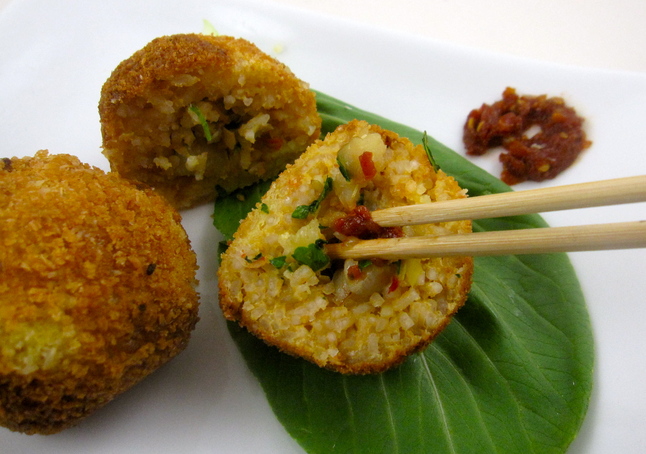 Peggy Lampman | Contributor

My dinnerFeed web site is a lean,
mean fighting machine!
To receive my lastest dinnerFeed posts
by email, sign up here.
Gong Hey Fat Choy!
This Sunday night is Chinese New Year's Eve, marking the beginning of the most important holiday for Chinese around the world. Though celebrations last about a week, traditionally it is a 15-day holiday during which drums and gongs are beaten, lanterns and firecrackers lit, and paper cutouts and calligraphy decorate doors.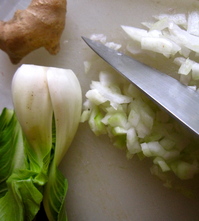 From Sydney to Shanghai to San Francisco, spectators will flood cities watching parades of elaborate floats, dancers, acrobats and beauty contestant winners snaking their way through streets, celebrating the New Year.
Unlike the Western calendar, which ushers in the New Year on Jan. 1, the Chinese New Year coordinates with the lunar calendar, falling on the second new moon after the winter solstice. Therefore the New Year may be celebrated in January or February, and not always on the same day.
Each lunar new year is represented by one of the twelve creatures of the Chinese Zodiac — 2013 being the zodiacal Year of the Snake, leaving 2012's Year of the Dragon behind. According to various websites, people born in snake years (1917, 1929, 1941, 1953, 1965, 1977, 1989, 2001, 2013 ) like to live well, loving books, music, clothes and fine food. Although I was born in the Year of the Sheep — characteristic traits being laid back and somewhat shy — I admire epicurean snake folk, enigmatic people that are terrific guests at a dinner party.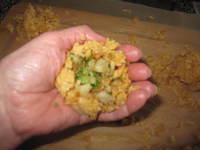 Whether you were born in the Year of the Snake or not, food, family and tradition play an important part of Chinese New Year celebrations. One tradition may include offering a sacrifice to the Kitchen God, to ensure he gives a good report on the family's behavior when he returns to heaven. Indeed, many families have a poster of the Kitchen God in their kitchen.
I'm not of Asian ancestry, but I respect this tradition, and thought an appropriate dish to offer up the Kitchen God would be a Sticky Rice Ball. Rice, particularly sticky (glutinous) rice, is an important component of so many traditional Chinese meals. According to Wikipedia, in China, glutinous rice has been grown for at least 2,000 years, and legend has it was used to make the mortar in the construction of the Great Wall of China. In Chinese culture, the circle stands for fulfillment, oneness, unity, and togetherness. I hope The Kitchen God will appreciate my circular mass of glutinous rice, of which I included a special hidden treasure of shrimp robed in spices.
Yield: apx. 6 rice balls
Time: 60 minutes
Ingredients for Rice
1 tablespoon coconut or peanut oil
2-3 large shallots, finely chopped (1/4 cup)
1 cup jasmine, or other sticky rice
1 1/2 - 2 cups coconut milk
Directions for Rice
1. Heat oil in a medium-sized, heavy-bottom sauce pan. Stir in shallots, with a pinch of salt, and cook until softened, about 3-4 minutes.
2. Stir in rice and 1 1/2 cups coconut milk. Bring to a low boil, stir, then reduce heat and simmer, covered, 15-20 minutes, stirring often and adding additional coconut milk if necessary, until rice is tender. Let stand 10 minutes then fluff with a fork.
Ingredients for Stuffing
2 tablespoons coconut or peanut oil, divided
1 tablespoon finely chopped shallot
1 heaping teaspoon grated ginger
5 extra large or jumbo raw shrimp, coarsely chopped into 3/4-inch pieces
1 baby bok choy, cut into slivers then chopped
1 tablespoon chopped cilantro
Red pepper flakes
Soy sauce
Directions for Stuffing:
1. Heat 1 tablespoon oil over low heat in a sauté pan. Stir in shallot and ginger and cook 4 to 5 minutes, or until fragrant, occasionally stirring.
2. Raise heat to medium and add additional tablespoon of oil; stir in shrimp and bok choy. Cook 2-3 minutes, or until shrimp are just cooked through and bok choy is tender.
3. Stir in cilantro and season to taste with red pepper flakes and soy sauce.
Miscellaneous Ingredients:
Coconut, peanut or vegetable oil for deep frying
2/3 cup panko
4 tablespoons unsweetened, shredded coconut
2 eggs, beaten
Asian dipping sauce such as Chili Paste, Soy Sauce, or Fruity-Ginger Sauce
Assembly:
1. Place about 2/3 cup of sticky rice in the palm of your hand. Form into a mound and make an indenture into the mound with your thumb. Spoon about 1/2 tablespoon shrimp mixture into indentation then mold rice around shrimp mixture, tightly rolling into a ball. Repeat with remaining rice and shrimp mixture.
2. Place a large, heavy-bottomed pot over medium to medium-high heat and add enough oil to rise 4 inches from the bottom of the pot. (A deep-fryer works well.) The oil is ready when a bit of panko sizzles but doesn't burn; about 375 degrees.
3. Mix together panko and coconut. Dip each shrimp ball into beaten eggs then roll into panko-coconut mixture, shaking off any excess.
4. Add the rice balls to the pot or fryer and fry until golden brown, adjusting heat as necessary so they don't burn but sizzle. Remove the rice balls with tongs or a slotted spoon and drain on paper towels. Serve with Asian dipping sauce.
Valentine's Day is around the corner. Check out these romantic and festive ideas for your celebrations: Chocolate-Covered Strawberries; Classic Chocolate Truffles; Chocolate Truffles with Bacon; Simple Chocolate-Rum Mousse; Classic Chocolate Soufflé; Filet Mignon with Red Wine-Mushroom Sauce; Filet Mignon with Cranberry-Zinfandel Sauce; Duck Breasts with Raspberry Sauce
Peggy Lampman is a real-time food writer and photographer posting daily feeds on her website and in the Food & Grocery section of Annarbor.com. You may also e-mail her at peggy@dinnerfeed.com.http://dinnerfeed.com/2011/02/10/filet-mignon-with-red-wine-mushroom-sauce/