Posted on
Tue, Oct 9, 2012 : 8 a.m.
Chocolate cake with Nutella buttercream frosting is perfect choice to celebrate National Dessert Day
By Mary Bilyeu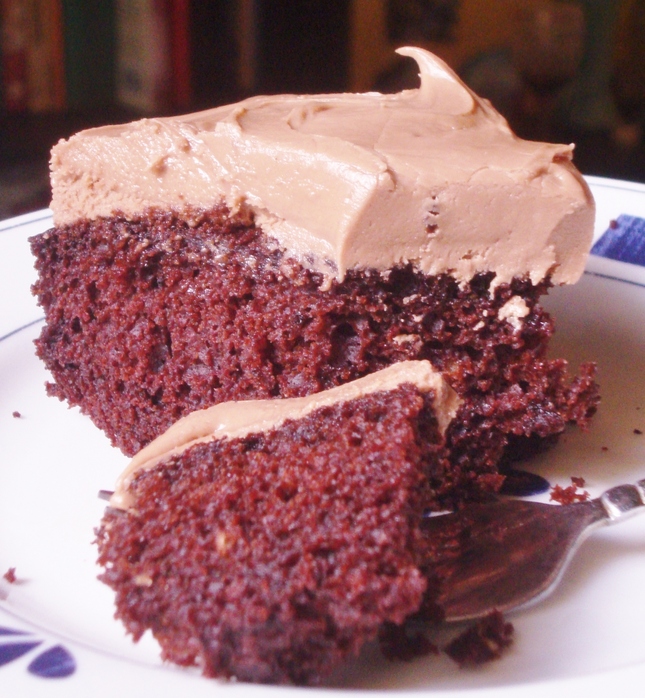 Mary Bilyeu | Contributor
Today is
National Dessert Day
. Well, what more does a girl with not just a sweet tooth, but numerous sweet
teeth
, need in her life? Today is a celebration!
Of course, that meant I had to make a decision... not my strong suit, as regular readers know, because everything always sounds good to me. My life would be so much easier if I didn't like as many foods, if I were a picky eater, or if I had texture issues; but most foods, particularly sugary ones, are on my "nice" list, which means that many options are always clamoring for my attention.
Pie? Cookies? Ice cream? Crepes? Cream Puffs? Too many choices, all of them trying to seduce me!
But then there was clarity. In the midst of the cacophony rioting in my brain, there was suddenly a moment of inspiration: chocolate cake. It's not glamorous. It's not elegant. It's not exotic.
But it's perfect. Chocolate cake, in its decadent and luscious simplicity with a rich frosting, is always perfect.
So I wish you a happy National Dessert Day! Enjoy a treat!
Chocolate Cake with Nutella Buttercream Frosting
Cake: 1 cup sugar
1/2 cup cold brewed coffee
1/2 cup canola oil
2 eggs
3 teaspoons cider vinegar
3 teaspoons vanilla extract
1-1/2 cups all-purpose flour
1/3 cup baking cocoa
1 teaspoon baking soda
1/2 teaspoon salt
Frosting: 1/3 cup butter, softened
4 tablespoons Nutella
1-3/4 cups confectioners' sugar
half-and-half
Preheat oven to 350 degrees. Grease a 9-inch round cake pan. Place a round of foil on the bottom of the pan and grease it, as well.
In a large bowl, beat together the sugar, coffee, oil, eggs, vinegar, and vanilla until well blended. In a small bowl, combine the flour, cocoa, baking soda, and salt; gradually beat into the coffee mixture until blended.
Pour the batter into the prepared pan. Bake 25-30 minutes until a toothpick inserted near the center comes out clean. Cool for 15 minutes, then carefully tip cake out of the pan; remove foil, then turn cake right-side up and cool completely.
In a large bowl, beat together the butter and Nutella; mix in the confectioners' sugar, then slowly add half-and-half by the tablespoon and beat until smooth. (This is a bit vague, because some people want a stiffer frosting while others like it a bit creamier.)
Place the cake onto a plate, spread frosting over the top, then serve.
Makes 12 servings.

Mary Bilyeu writes for AnnArbor.com on Tuesdays, Wednesdays, and Fridays, telling about her adventures in the kitchen - making dinner, celebrating holidays, entering cooking contests, meeting new friends ... whatever strikes her fancy. She is also on a mission to find great deals for her Frugal Floozie Friday posts, seeking fabulous food at restaurants on the limited budget of only $5 per person. Feel free to email her with questions, comments, or suggestions: yentamary@gmail.com.

Go visit Mary's blog — Food Floozie — where she enthuses and effuses over all things food-related; and look for her monthly articles in the Washtenaw Jewish News. "Like" her on Facebook, or send a tweet on Twitter, too.

The phrase "You Should Only Be Happy" (written in Hebrew on the stone pictured in this post) comes from Deuteronomy 16:15 and is a wish for all her readers - when you come to visit here, may you always be happy.