YOU SHOULD ONLY BE HAPPY ....
recipe:

Chocolate Caramel Matzah is easy to make and ridiculously good

Posted on Tue, Apr 19, 2011 : 11 a.m.

I've eaten far more than my fair share of chocolate-covered matzah over the years — that stuff is ridiculously good! I've often wanted to make my own, with a caramel layer as well, but have never managed to get around to it... until now.




Recipes for this abound; so I sort of glanced over a few, determined my own protocol, and then went to work. Though really, it's hardly labor-intensive — a few minutes at the stove, a few minutes waiting for the treat to bake, another minute waiting for the chocolate to melt. The real work was waiting until last night for the start of Passover to eat this luscious treat, after making it on Sunday afternoon!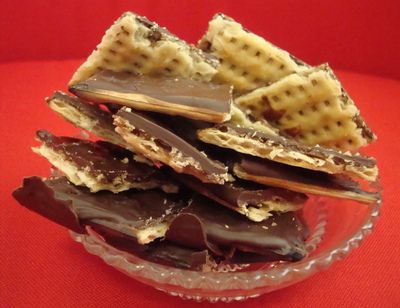 Mary Bilyeu, Contributor
I've seen recipes for this using saltines or graham crackers as the base; but I have to say that the crispness of the matzah really serves it well. If you don't already have a stockpile of matzah for the holiday, wait until next week when Passover has ended and you can get a box on sale.
Chocolate Caramel Matzah
2 plain matzot ([mahtz-OTE] = the plural of matzah)
1/2 cup brown sugar
1/2 cup butter
1/2 cup semi-sweet chocolate chips
Preheat oven to 350 degrees. Line a 9x13-inch baking pan with foil, then grease the foil. Lay the matzot in the pan, side-by-side.

In a medium saucepan (because it bubbles up), melt the brown sugar and the butter together over medium heat until the mixture bubbles. Once it's bubbling, turn the heat to medium-high and stir constantly until the caramel thickens, lightens a bit in color, and pulls away from the sides of the pan — approximately 2 minutes.

Pour the caramel over the matzot, and carefully spread it with a spoon.

Bake the matzot for 5 minutes or so, until the caramel has darkened a bit. Remove from the oven and sprinkle the chocolate chips over the matzot.

Wait 1-2 minutes for the chocolate to melt, then spread it evenly over the matzot.

Let everything cool completely, then cut each matzah into 12 pieces.
This can serve one or it can serve two dozen, depending upon how generous you're feeling ....

has won or placed in more than 60 cooking contests and writes about her adventures in the kitchen. She was thrilled to have her post about Scottish Oatmeal Shortbread named as one of the daily "Best of the Blogs" by the prestigious Food News Journal.
Go visit Mary's blog — Food Floozie — in which she cooks, reviews restaurants and generally enthuses and effuses over all things food-related. And feel free to email her with questions or comments: yentamary@gmail.com.
The phrase "You Should Only Be Happy" (written in Hebrew on the stone pictured at the top of this post) comes from Deuteronomy 16:15 and is a wish for all her readers as they cook along with her ... may you always be happy here.