Posted on
Thu, Dec 15, 2011 : 8 a.m.
Chocolate chip gingerbread scones - nutritious ingredients add up to delicious winter treat
By Mary Bilyeu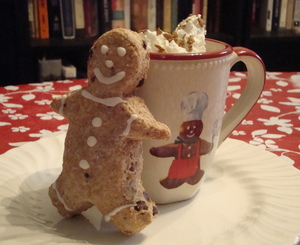 Mary Bilyeu, Contributor
Isn't he adorable? I love gingerbread, I love chocolate chip cookies, and I love scones ... it only made sense to combine them, then, for my entry into the Hodgson Mill "Have a Grain Holiday" recipe contest!
My challenge was to "create an original, sweet or savory holiday treat using Hodgson Mill Whole Wheat flour and/or Hodgson Mill 'Best for Bread' bread flour (products provided). All entries will be judged by Hodgson Mill based on overall appeal, originality and appropriateness to the Hodgson Mill brand — we're looking for a treat that's delicious AND nutritious!"
In order to make my treats nutritious, I used primarily whole wheat flour. I also added a bit of wheat germ and flax seed, as well as using yogurt rather than butter. The delicious part comes from the nutty flavor of the whole grains, and also from spices, candied ginger, dark chocolate and just the tiny touch of sweetness in the optional decoration.
These scones were ridiculously easy to make — stir together the ingredients, roll out the dough, cut them, bake them, then let them cool before decorating. The house smells amazing while these festive treats bake! And scones, of course, are a perfect accompaniment to cocoa, coffee, tea, mulled cider... anything warm and cozy for a cold winter day.
There's enough junk food surrounding us during the holidays. Enjoy something that tastes good and is also good for you!

I'll be keeping Office Hours at AnnArbor.com today, from 4-5 p.m. Come say "hi!" Give me Frugal Floozie Friday recommendations, tell me what you're serving for whichever upcoming holidays you're celebrating - just stop by, have a cup of coffee, hang out in the Community Space ....
Chocolate Chip Gingerbread Scones
1-1/2 cups Hodgson Mill 100 percent stone ground whole wheat flour
1/2 cup + 1/3 cup Hodgson Mill white flour - unbleached
3/4 teaspoon kosher salt
1 teaspoon cinnamon
1-1/2 teaspoons ginger
1/3 cup turbinado sugar
1 tablespoon Hodgson Mill whole grain flax seed
2 tablespoon Hodgson Mill wheat germ
1 teaspoon baking powder
1 tablespoon minced candied ginger
1/3 cup ginger ale
1 egg
2 tablespoons olive oil
1/2 cup vanilla all-natural yogurt
1/4 cup mini dark chocolate chips
1/3 cup confectioner's sugar
1 tablespoon skim milk
Preheat oven to 350 degrees. Lightly grease a baking sheet.
In a large bowl, combine flours, salt, cinnamon, ginger, turbinado sugar, flax seed, wheat germ, baking powder and candied ginger. In a large measuring cup, combine egg, oil and yogurt; pour over dry ingredients and stir just to combine. Stir in chocolate chips.
Sprinkle a bit of white flour onto the countertop and knead dough just until smooth. Roll out to 1 inch in height, and use a 5-inch gingerbread man cookie cutter to cut scones. Re-roll and cut until dough is used up.
Place the scones onto the baking sheet and bake for 20 minutes until just lightly golden and set when their bellies are lightly pushed. Remove to a rack and cool completely.
Combine the confectioners' sugar and milk; stir until smooth. Place into a small baggie, snip a tiny corner off, and use the icing to decorate the scones. Let the icing set, then serve.
Makes 6 scones.

Mary Bilyeu has won or placed in more than 60 cooking contests and writes about her adventures in the kitchen. She was thrilled to have her post about Scottish Oatmeal Shortbread named as one of the daily "Best of the Blogs" by the prestigious Food News Journal.
Go visit Mary's blog — Food Floozie — on which she enthuses and effuses over all things food-related. Her newest feature is Frugal Floozie Friday, seeking fun and food for $5 or less ... really! Feel free to email her with questions or comments or suggestions: yentamary@gmail.com.
The phrase "You Should Only Be Happy" (written in Hebrew on the stone pictured in this post) comes from Deuteronomy 16:15 and is a wish for all her readers as they cook along with her ... may you always be happy here.