Posted on
Tue, Oct 23, 2012 : 12:30 p.m.
Chocolate chip scones - homemade treats are no trouble on a sunny weekend morning
By Mary Bilyeu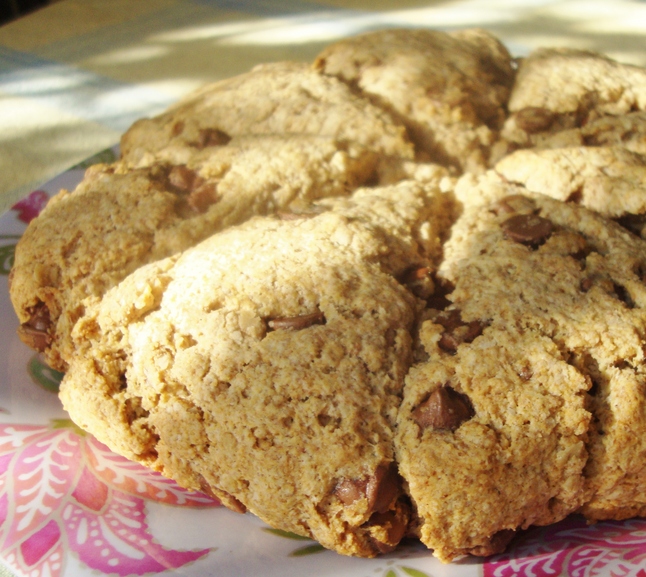 Mary Bilyeu | Contributor
My loved ones know that I take requests for dinners, breakfasts, baked goods, etc. Why do I always have to be the decider, after all? If I'm going to be cooking anyway, why not let others ask for something they're craving or something that sounds like it would be good to try?
Jeremy already knows this policy; if he wants burgers for dinner, we have burgers for dinner. Craig is still learning that it really is okay to ask. He'll tell me when he's dreaming about burritos or pizza, but doesn't seem to want to impose upon me by asking me to do any special work. It's very sweet, but it's not a problem.
Other people think it's a big production to bake from scratch. I think it's a matter of stirring together some flour and sugar and butter, perusing The New York Times' website while I wait for the oven to do the rest of the work, and then enjoying both aromatherapy and handmade, homemade treats.
So one Sunday morning, when we didn't have bagels on hand, Craig thought scones sounded good. He asked what I had to put in them. "Dates ... other dried fruits." "Do you have chocolate chips?" "Absolutely!"
Thus, we found ourselves eating fresh, warm-from-the-oven chocolate chip scones on a bright, sunny, Sunday morning.
Chocolate Chip Scones
1 cup unbleached flour
1 cup whole wheat
1/4 cup brown sugar
pinch of salt
1 teaspoon baking soda
1 teaspoon aluminum-free baking powder
1 packet instant plain oatmeal
1 packet Maple & Brown Sugar-flavored instant oatmeal
1/3 cup shortening, at room temperature
1/4 cup vanilla yogurt
2/3 cup buttermilk
1/2 cup chocolate chips
Preheat oven to 350 degrees. Grease a baking sheet.
In a large bowl, combine the flours, brown sugar, salt, baking soda, baking powder, and oatmeal packets. With a fork, mix in the shortening and yogurt until the mixture is crumbly. Stir in the buttermilk, then the chocolate chips.
Knead the dough just until it holds together, then press it into an 8" circle on the prepared baking sheet. Score the dough into 8 portions, then bake for 30-35 minutes until the scones are golden and the center is set when lightly pressed. Carefully cut the scones apart, then let cool a bit before serving.
Makes 8 scones.

Mary Bilyeu writes for AnnArbor.com on Tuesdays, Wednesdays, and Fridays, telling about her adventures in the kitchen - making dinner, celebrating holidays, entering cooking contests, meeting new friends ... whatever strikes her fancy. She is also on a mission to find great deals for her Frugal Floozie Friday posts, seeking fabulous food at restaurants on the limited budget of only $5 per person. Feel free to email her with questions, comments, or suggestions: yentamary@gmail.com.

Go visit Mary's blog — Food Floozie — where she enthuses and effuses over all things food-related; and look for her monthly articles in the Washtenaw Jewish News. "Like" her on Facebook, or send a tweet on Twitter, too.

The phrase "You Should Only Be Happy" (written in Hebrew on the stone pictured in this post) comes from Deuteronomy 16:15 and is a wish for all her readers - when you come to visit here, may you always be happy.