Posted on
Thu, Feb 14, 2013 : 4:16 a.m.
Chocolate-Dipped Figs with Walnuts a simple, sensual pleasure for Valentine's Day
By Peggy Lampman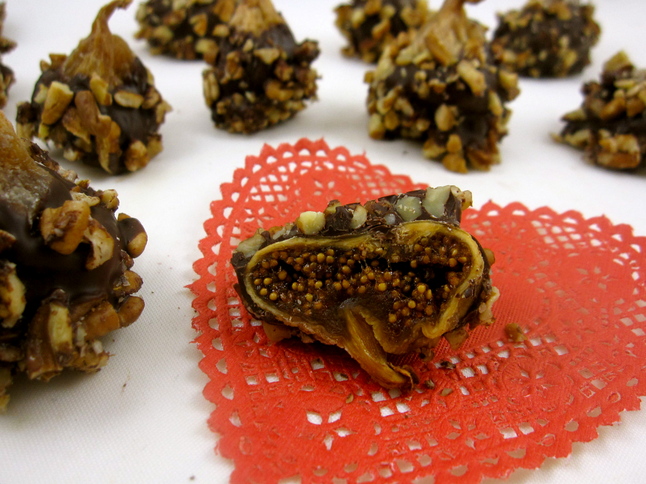 Peggy Lampman | Contributor

My dinnerFeed web site is a lean,
mean fighting machine!
To receive my lastest dinnerFeed posts
by email, sign up here.
Fantasize filet mignon enrobed in a buttery bordelaise sauce, snuggled up to truffled mashed potatoes, followed by a triple chocolate torte decorated with candy hearts for Valentine's Day. Romantic, yes? Wouldn't a meal such as this light the fire for an evening d'amour with my hubby? Not unless said romantic evening means staggering from the table, clutching one another, then tumbling into the couch in a high caloric stupor.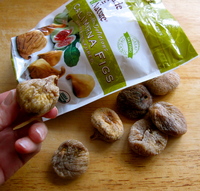 Although my sentiments are always appreciated, sometimes the aftermath of these carefully constructed Valentine's Day menus brings more antacid-relieved punishment than amorous bliss. Therefore, this year I'm forgoing my usual "romantic" meal in favor of simple pleasures: oysters on the half shell, followed by a roasted root vegetable salad, finished with
chocolate-dipped figs
.
Chocolate-dipped strawberries are a classic Valentines Day treat — why not figs? According to dozens of (albeit questionable) websites, the ancient sweet and juicy fig is loaded with powerful aphrodisiacal powers and associated with fertility and love; said to have been a favorite of Cleopatra. I'll buy that — she was a sultry temptress.
The science behind the health properties of figs is more conclusive. Figs are packed with nutritional goodness, and a host of medical web sites, including Mayo Clinic's, touts them as a good source of iron, phosphorus, calcium and fiber.
So why don't I just give these power packs of passion a double whammy, and dip them into dark chocolate, another darling in the I-love-it-and-it's-healthy food world. According to a slideshow article in the Huffington Post, "..Regular chocolate eaters welcome a host of benefits for their hearts, including lower blood pressure, lower "bad" LDL cholesterol and a lower risk of heart disease."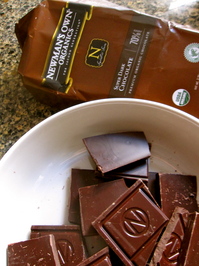 As well,
a study published last year in the Archives of Internal Medicine
found that individuals who consumed chocolate more frequently had a lower BMI (Body Mass Index uses measurements of height to weight to assess body fat) than those who consumed it less often. The study goes on to say those individuals also exercised 3.6 times a week.
Whatever
.
The article I'm referencing also includes a quote from Dr. David Katz, founding director of Yale University's Prevention Research Center, about chocolate and feeling sated, which rings true from my experience. Keep in mind, he means only eating a couple of bites; not wolfing down the entire bar.
"It may be that people who make it a regular part of their routine know that it (chocolate) really gets the job done," Katz said. "They think 'If I need a bit of pleasure, I'm not going to try and eat 11 other things first.'" He explained that what matters often in weight control is the number of calories it takes for people to feel full, accounting for why eating small amounts of healthy, albeit high caloric foods like walnuts, can actually help people maintain their weight.
So how about giving a triple wallop to those doubly decadent treats by dunking the chocolate-covered figs in walnuts. Eureka! As my friend Marty put it, "You may be on to something".
I'm killing two birds, incidentally, with the following recipe. Marty's birthday falls around Valentine's Day; she's a local yoga teacher and uber health food junkie, and she appreciated my gift to her of a box of these figalicious treats. In retrospect, I could have giving them more V-Day pizzazz with a sprinkle of red raspberry sugar. Just a tad, mind you; don't want lover-boy blitzing into a sugar haze after the main course.

(Click here for other intoxicating Valentine's Day menu ideas)
Yield: 24 pieces
Time: 20 minutes
Ingredients:
1 cup chopped nuts, such as toasted walnuts, pecans or hazlenuts
24 large dried figs, such as Calimyrna*
6-7 ounces dark chocolate (at least 70 percent cacao), broken into pieces
Raspberry sugar, optional, but a festive idea for Valentine's Day
*I have trouble finding fresh figs at this time of the year, but if they're available to you, use them as you would the dried in the recipe, or slice them, dipping the tip of the fresh fig in chocolate.
Directions:
1. Line a large baking sheet with wax or parchment paper. Transfer nuts to a shallow dish; set aside. If figs are flattened, re-plumb into shape with your fingers. 


2. In a microwave-safe bowl or glass bowl, melt chocolate 3-4 minutes, stirring every 60-90 seconds. Or, place chocolate into a small pot and heat over medium low heat, stirring constantly, until melted and smooth, about 5 minutes.
3.Working one at a time, hold a fig by the stem and dip into the chocolate, coating it 2/3 of the way up. Shake off any excess chocolate, lightly sprinkle raspberry sugar over chocolate, if using, roll chocolate in nuts and transfer to the sheet tray. (If chocolate stiffens, reheat briefly over low heat.)
4. Refrigerate until chocolate has set. Store in the refrigerator in an air tight container, with waxed paper between layers.
Peggy Lampman is a real-time food writer and photographer posting daily feeds on her website and in the Food & Grocery section of Annarbor.com. You may also e-mail her at peggy@dinnerfeed.com.