Posted on
Thu, Feb 23, 2012 : 8 a.m.
Chocolate peanut butter cream puffs - easy to make but sophisticated enough for Oscars celebration
By Mary Bilyeu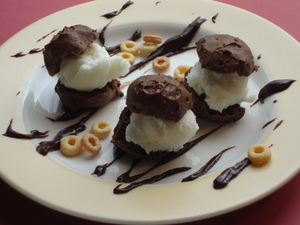 Mary Bilyeu | Contributor
Regular readers know that I don't watch television, movies, or anything other than a very few shows: baseball, Michigan football, royal weddings and the Academy Awards. And the Oscars are this Sunday night!
So a few loved ones are coming over to watch, debate, be catty about dresses (though it's not as much fun now that they all have stylists) and — of course! — eat.
It doesn't matter that the only nominated movie I saw this year was "The Muppets" — it's about the spectacle. And I've read enough about the other movies to have opinions and to know that "Hugo," "A Cat in Paris" and "The Artist" are the only ones I really want to see. Something has to be very enticing for me to devote time to just sitting and staring at a screen.
The menu for my little soiree is still a work in progress, but the dessert is going to be rich, sophisticated and delicious: Chocolate Peanut Butter Cream Puffs filled with ice cream.
I recently received a very generous marketing gift of the new Peanut Butter-flavored Multi-Grain Cheerios and had promised to use them in recipes. I was tempted to eat them for breakfast in the morning, but I'm a woman of my word, so I didn't devour my stash!
Chocolate and peanut butter are a classic combination, as we all know; it only made sense that if I was going to be making a chocolate dessert that the Cheerios should somehow be incorporated. So I ground them and mixed them into the cream puff batter, adding both flavor and texture.
These are ridiculously easy to make, but make such a dramatic presentation! They're perfect for your Oscar party, or for any other occasion when you want a special treat.
Be sure to check back next week for my "Chopped" challenge, in which Food Floozie readers suggested ingredients for me to use in creating appetizers, entrees and desserts!
Chocolate Peanut Butter Cream Puffs
(adapted from the recipe for Chocolate Profiteroles in Mainstreet Ventures' Distinctive Recipes from Distinctive Eateries)
6 tablespoons butter
2 tablespoons sugar
3/4 cup skim milk
1/4 cup cocoa powder
3/4 cup flour
1-1/2 teaspoons kosher salt
2 cups Peanut Butter Cheerios, ground
4 eggs
Preheat the oven to 400 degrees. Line a baking sheet with parchment paper or greased foil.
In a medium saucepan, combine the butter, sugar and milk; bring to a boil, then remove from heat. Add the cocoa powder, flour, salt and Cheerios; stir vigorously until the mixture forms a ball and comes away from the sides of the pan.
One by one, stir in the eggs until each is fully incorporated.
Using a 1 tablespoon ice cream scoop, drop batter onto the baking sheet. (These won't spread, so you can place them fairly close together.) Bake for 15 minutes, then turn heat down to 350 degrees and bake for 10 more minutes until firm and glossy. Let cool completely before slicing and filling with ice cream or pastry cream.
Makes about 48 puffs.

Mary Bilyeu writes about her adventures in the kitchen - making dinner, celebrating holidays, entering cooking contests ... whatever strikes her fancy. She is also on a mission to find great deals for her Frugal Floozie Friday posts, seeking fabulous food at restaurants on the limited budget of only $5 per person. Feel free to email her with questions or comments or suggestions: yentamary@gmail.com.
You should also visit Mary's blog — Food Floozie — on which she enthuses and effuses over all things food-related.


The phrase "You Should Only Be Happy" (written in Hebrew on the stone pictured in this post) comes from Deuteronomy 16:15 and is a wish for all her readers - when you come to visit here, may you always be happy.