Posted on
Tue, May 10, 2011 : 5:50 a.m.
Chocolate peanut butter crunch muffins
By Mary Bilyeu

Okay, I've said several magic words in that title, haven't I? Chocolate... peanut butter... crunch... muffins. Important tastes, textures, and treats!
Having just moved last weekend, I was in the mood to christen the oven in my new apartment; and what better way than baking with chocolate?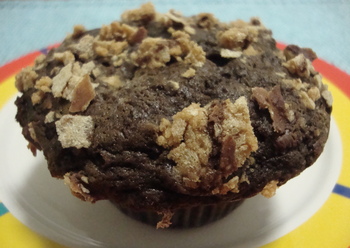 Mary Bilyeu, Contributor
So I took the basic recipe for a Chocolate Almond Loaf Bread I'd made at Christmas and added a bit of a twist. I didn't have any amaretti to crumble on top for some crunch and to provide the almond flavoring of the title. So I took the last two peanut butter wafer cookies I had in my cupboard — those addictive things that are crisp and coated in chocolate, with the layers of peanut butter filling — and crushed them instead.
And let me tell you, it was a fine substitution! Truly, these were exceptional — moist and tender, with the contrasting crispness of the cookie crumbs on top. The flavor was extraordinary — rich and luscious. I tried the first one while it was still warm, so the chocolate chips were even melted... sigh.
Bake these, and fall in love with them...
Chocolate Peanut Butter Crunch Muffins
1 cup sugar
1/2 cup butter, softened
2 eggs
1 cup 2 percent milk
1 tablespoon cider vinegar
1-3/4 cups unbleached flour
1/2 cup cocoa powder
1/2 teaspoon baking powder
1/2 teaspoon baking soda
1 teaspoon kosher salt
1/2 cup chocolate chips
2 chocolate-covered peanut butter wafer cookies, crushed
Preheat oven to 350 degrees. Line a 12-cup muffin tin with paper liners.
In a large mixing bowl, combine sugar and butter; add eggs and mix well.
Combine milk and vinegar; pour into batter and combine well.
Add flour, cocoa powder, baking powder, baking soda and salt; mix well. Stir in chocolate chips and divide batter among the muffin cups.
Sprinkle the wafer cookie crumbs over the tops of the muffins.
Bake for 20-25 minutes until a tester inserted into the muffins comes out clean.
Makes 12 muffins.

Mary Bilyeu has won or placed in more than 60 cooking contests and writes about her adventures in the kitchen. She was thrilled to have her post about Scottish Oatmeal Shortbread named as one of the daily "Best of the Blogs" by the prestigious Food News Journal.
Go visit Mary's blog — Food Floozie — on which she enthuses and effuses over all things food-related. She is also the Ann Arbor Cheap Eats Examiner on Examiner.com, scouting the best deals in town for good food on a very tight budget. Feel free to email her with questions or comments: yentamary@gmail.com.
The phrase "You Should Only Be Happy" (written in Hebrew on the stone pictured at the top of this post) comes from Deuteronomy 16:15 and is a wish for all her readers as they cook along with her ... may you always be happy here.