Posted on
Thu, Feb 21, 2013 : 6:21 a.m.
No-yeast chocolate rolls a quick and tasty twist on an old favorite
By Jessica Webster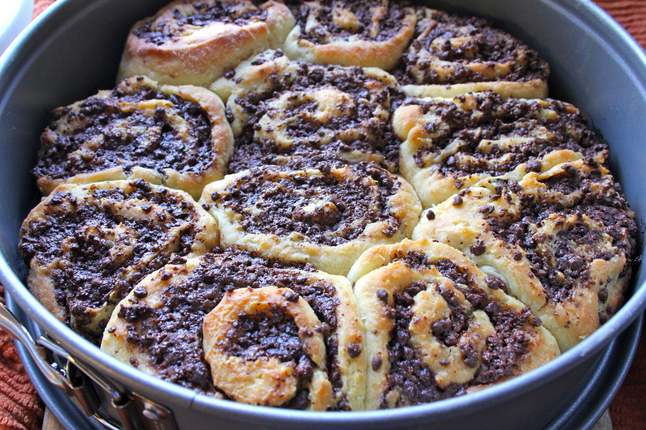 Jessica Webster | AnnArbor.com
I received a letter from a reader recently asking me why no one ever talks about
chocolate rolls
. You can get a cinnamon roll at every corner bakery, but why cinnamon? Why not chocolate?
Good question. Perhaps no one ever talks about chocolate rolls because no one ever thought of them. Or at least I hadn't until that letter arrived. But once the thought was in my head, I could think of little else.
I decided to take a classic cinnamon roll recipe and replace the luscious cinnamon-butter-brown sugar filling with chocolate. Just using cocoa powder seemed kind of anticlimactic, however. I mean, if you're going to go chocolate, you might as well go full-throttle, in your face, over-the-top chocolate. So I scaled back the sugar and grabbed a bag of bittersweet chocolate chips. This was going to be good.
After a comically miserable very long night misadventure with some bad yeast (I made two batches, each with 90 minutes of "rising" that never happened before I gave up), I discovered that you could make a nice and quick yeast-free sweet roll. And it's really good!
Notes:
If you've got a spring form pan, use it. It makes it much easier to free the buns from their cake pan captivity when you're ready to serve them.
The recipe as written makes a lot of filling. If you want a slightly less chocolatey roll, cut it back to maybe 8 ounces.
I'm giving you a recipe for cream cheese frosting, but the rolls are really very good even without it. I served the rolls with and without the frosting, and got rave reviews each way.
Chocolate Rolls (adapted from momswhothink.com):
2 1/2 cups all purpose flour, plus extra for the counter
2 tablespoons white granulated sugar
1 1/4 teaspoons baking powder
1/2 teaspoon baking soda
1/2 teaspoon salt
1 1/4 cups buttermilk
4 tablespoons, unsalted butter, melted
Preheat the oven to 425 degrees. Generously grease a 9-inch round cake pan or (even better!) a spring form pan.
Make the dough: In a large bowl, whisk together the flour; 2 tablespoons white granulated sugar, baking powder, baking soda, and salt.
In a separate bowl, whisk the buttermilk and 2 tablespoons of the melted butter together.
Stir the buttermilk mixture into the flour mixture with a wooden spoon until absorbed, about 30 seconds. The dough will look shaggy.
Turn the dough out onto a generously floured counter and knead until smooth, about 1 minute.
Press the dough out into a 9- by 12-inch rectangle using your hands.
Sprinkle the dough evenly with the filling, leaving a 1/2-inch border. Press the filling firmly into the dough.
Loosen the dough from the counter using a bench scraper or a metal spatula.
Starting at a long side, roll the dough, pressing lightly, to form a tight log. I had to stop a few times to work the dough loose from the cutting board and sprinkle a little more flour.
Pinch the seam to seal. Using a serrated knife and a gentle sawing motion, slice the dough into 1-inch slices.
Nestle the slices in the greased pan.
Brush with the remaining 2 tablespoons melted butter. Bake until the edges are golden brown, 20-25 minutes.
Let cool for 10 minutes before frosting with optional cream cheese icing.
Filling
3 tablespoons unsalted butter, at room temperature
1/4 cup granulated sugar
1 10-ounce bag of bittersweet or semisweet chocolate
Pinch of salt
1/4 teaspoon cinnamon
Pulse the chocolate, sugar, salt and cinnamon in a food processor until the chocolate is finely chopped. Add the butter and continue to pulse until it has been distributed throughout the chocolate mixture. Set aside.
Optional Cream Cheese Frosting:
8 ounces cream cheese
1/2 cup butter
1 teaspoon vanilla
3 cups confectioner's sugar, sifted
1 Tablespoon milk
Mix all ingredients until smooth.
Jessica Webster leads the Food & Grocery section for AnnArbor.com. Reach her at JessicaWebster@annarbor.com. You also can follow her on Twitter or subscribe to AnnArbor.com's email newsletters.