Posted on
Mon, Jul 29, 2013 : 11:55 a.m.
Christening Punch with Fruit & Lavender Ice Ring
By Peggy Lampman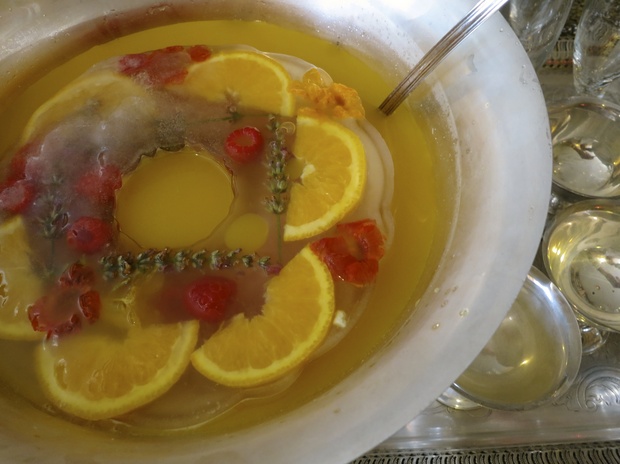 Peggy Lampman | Contributor

To receive my lastest dinnerFeed posts
by email, sign up here.
Punch bowls recall the high school prom with that ne'er-do-well trouble-maker (you forget his name) sneaking whiskey into the punch, and that dry wedding where you wished someone would sneak whiskey into the punch bowl after an un-air-conditioned, two-hour ceremony in 90-degree heat.
Others think of "punch" as a non-alcoholic sugary concoction favored by children. But according to David Woodrich's book,
"Imbide!"
: "... for nearly 200 years, from the 1670s to the 1850s, the Kingdom of Mixed Drinks was ruled by the Bowl of Punch." The rich history of punch led to the development of the modern cocktail, the first published cocktail recipe appearing in 1831.
Woodrich writes in his other book, "Punch: The Delights (and Dangers) of the Flowing Bowl" that "...Punch should not be the strength of a cocktail. It's got to be something considerably less dangerous." I tip my glass to Mr. Woodrich; especially if the punch is honoring someone not yet of legal age, in our family's case, a baby girl — just shy of three months.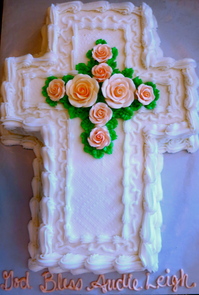 My stepson, Brian, and his wife, Justina, recently gave birth to their fourth child — Richard and I were honored to host the christening party last Sunday, tradition insisting a festive punch be a part of the after-church celebration, the champagne served on the side for those of legal age.
Justina's friend, Mary Williams of Cakes by Mary (734-741-1753), created a beautiful cake honoring the celebration. Welcome to the world, Audie-Leigh!
(Click here for more enlightened Punch commentary)
Yield: 24 servings
Time to freeze ice ring: 12 hours
Active Time: 15 minutes
Ingredients for Ice Ring:
1 sweet orange, sliced into thin rings then cut in half
1 Bundt pan, to fit into the punch bowl
Fresh herb sprigs and edible flowers, such as lavender and nasturtium blossoms (pictured)
1 cup fresh raspberries
Ingredients for Punch:
Punch Bowl
33.8 ounces chilled fruit nectar, such as Looza's peach or mango
1 (12-ounce) can frozen orange juice concentrate
25 ounces chilled sparkling juice
33.8 ounces chilled soda (carbonated) water
Chilled Proseco, Champagne or sparkling wine (optional)
Directions:
1. To make the ice ring, layer orange slices evenly in the bottom of Bundt pan mold.
Add herb springs and edible flowers in between the orange slices. Sprinkle and cover orange slices and herb sprigs with raspberries. Fill Bundt mold 3/4 way full with water; filtered water preferred. Freeze until ready to use.
2. When ready to serve punch, in a punch bowl combine nectar, orange juice concentrate, sparkling juice and soda water. Run cold water on the back of the mold and the ring will pop out effortlessly. Serve chilled alcohol on the side for guests to add at their own discretion.
Peggy Lampman is a real-time food writer and photographer posting daily feeds on her website and in the Food & Grocery section of Annarbor.com. You may also e-mail her at peggy@dinnerfeed.com.