Posted on
Tue, Nov 27, 2012 : 8 a.m.
Cider braised pot roast - a subtly different take on a comfort food classic
By Mary Bilyeu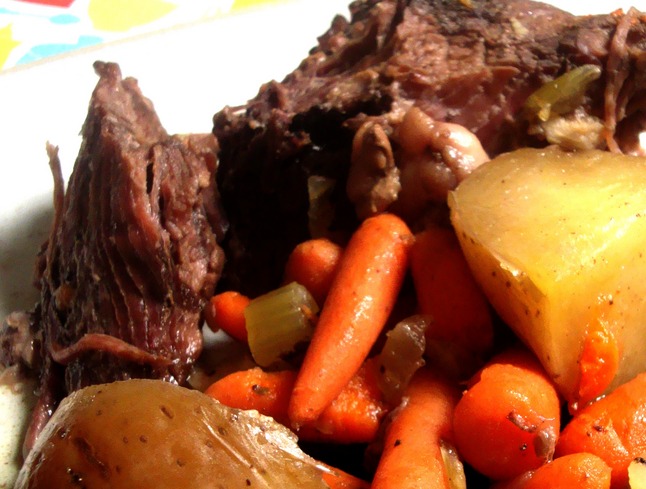 Mary Bilyeu | Contributor
Pot roast is one of the great comfort foods. Mac 'n' cheese, meatloaf, grilled cheese served with tomato soup... these are all in the pantheon. Pot roast, however, is one of the easiest to prepare; the crockpot, after all, does most of the work for you, and you come home from work to a nice, hot meal.
You can serve this "as is" on the first night, and then shred some of the leftover meat for a different meal the next evening — tacos or enchiladas, maybe some Cuban Ropa Vieja ("old rags") served with rice. Or stir some chopped beef into tomato sauce and pour everything over pasta... there are many options.
I got the idea for this from chef Jeffrey Nathan; I remember hearing him talk about it once, years ago, and thinking what a lovely dish it would make for fall. The sweetness of the cider offers a subtle flavoring, and a nice change from onion- or beef-based broths.
I'm hosting a giveaway on my blog, Food Floozie: go check it out, and maybe you could win a $25 gift card from Whole Foods Market!
Cider-Braised Pot Roast
1 tablespoon extra-virgin olive oil
1/3 cup chopped red onion
1/3 cup chopped celery
2 large garlic cloves, minced
1 3-pound top sirloin roast
1 tablespoon kosher salt
generous sprinkling of red pepper flakes
generous sprinkling of freshly ground black pepper
2 cups baby carrots
3 medium Yukon Gold potatoes, cut into 1 and 1/2-inch chunks
1-1/2 cups apple cider
splash of Tabasco sauce
In a small saucepan, heat the oil over medium heat; add onion, celery, and garlic, and cook for 2 minutes until vegetables are softening.
Place the roast into a crockpot, and sprinkle with salt, red pepper flakes, and pepper. Top with sauteed vegetables, carrots, and potatoes. Combine cider and Tabasco sauce; pour over everything.
Cook on "high" for 1 hour; then turn heat to low and cook 6-8 hours.
Serves 4-6.

Mary Bilyeu writes for AnnArbor.com on Tuesdays, Wednesdays, and Fridays, telling about her adventures in the kitchen - making dinner, celebrating holidays, entering cooking contests, meeting new friends ... whatever strikes her fancy. She is also on a mission to find great deals for her Frugal Floozie Friday posts, seeking fabulous food at restaurants on the limited budget of only $5 per person. Feel free to email her with questions, comments, or suggestions: yentamary@gmail.com.

Go visit Mary's blog — Food Floozie — where she enthuses and effuses over all things food-related; and look for her monthly articles in the Washtenaw Jewish News. "Like" her on Facebook, or send a tweet on Twitter, too.

The phrase "You Should Only Be Happy" (written in Hebrew on the stone pictured in this post) comes from Deuteronomy 16:15 and is a wish for all her readers - when you come to visit here, may you always be happy.