Posted on
Wed, Dec 21, 2011 : 10:38 a.m.
Composed Holiday Salad with Gorgonzola, Cranberries, Pears and Walnut Vinaigrette
By Peggy Lampman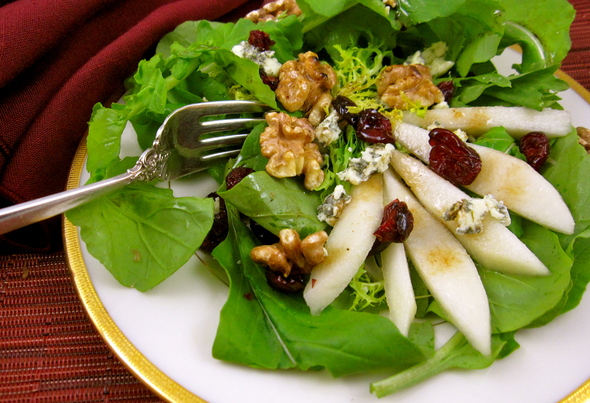 Peggy Lampman | Contributor

Hurrah! Hiller's has arugula "verity" in stock — this is the arugula with bite; the arugula that barks back at you and tastes like peppery greens you grew yourself.
Not to discount the pervasive boxes and bags of arugula in every produce market in town; I use them often by default. But their flavor is mild to my palate. So when I find free-form arugula, I can't resist grabbing a bunch. (Yes, you may have to wash it a couple of times, but it's well worth the effort.)
Another way of insuring this salad will be delicious is the vinaigrette you choose to use. If you make your own vinaigrettes and have not checked out Fustini's, you're in for a treat. This interesting store in Kerrytown is packed with infused oils and vinegars, great stocking stuffers and jewel-toned cruets. Most items retail in the $10-$15 dollar range. I purchased truffle oils for stocking stuffers and take an interesting bottle of vinegar (instead of wine) to parties as hostess gifts.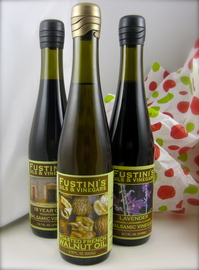 Of course the ingredients in the salad below are just suggestions. Use goat cheese instead of gorgonzola, dried cherries for cranberries, yada, yada. Click here to see a similar salad I made this time last year using pistachios and pomegranate seeds.
Active Time: 20 minutes
Optional Time to Soak Shallots: 30 minutes
Yield: 4 servings
Ingredients
1/2-1 teaspoon minced shallot
1 tablespoon balsamic vinegar
5 tablespoons walnut oil
1 teaspoon maple syrup
6 cups salad greens (I used frisee and arugular) washed and spun dry
2 Bosc pears, peeled, cored and sliced into16 pieces
1/2 cup dried cranberries
Crumbled gorgonzola as desired
Directions
1. If time allows, soak shallot in vinegar for 30 minutes.
2. Whisk together oil, shallot mixture and maple syrup. Adjust seasonings adding kosher salt and freshly ground pepper to taste.
3. Toss 1/2 vinaigrette with frisee and raddichio, adding remaining dressing as desired.
4. On a large platter or 4 individual plates, arrange pears next to or atop lettuces. Sprinkle with cranberries, gorgonzola cheese, to taste, and serve.
My new web site (packed with holiday recipes) has recently been launched. (www.dinnerFeed.com)! I'm a real-time food writer and photographer posting daily feeds on my website and in the Food & Drink section of Annarbor.com. You may also e-mail me at peggy@dinnerfeed.com.