Posted on
Wed, Apr 10, 2013 : 8 a.m.
Cocoa Cinnamon Rolls with Orange Frosting - a fun baking project with the kids
By Mary Bilyeu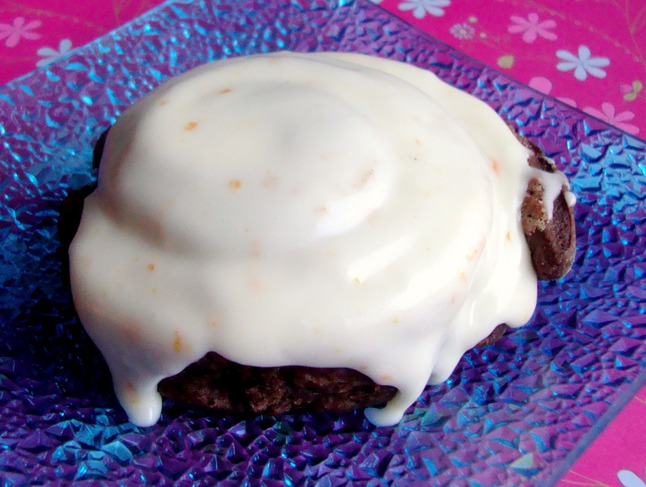 Mary Bilyeu | Contributor
It's
National Cinnamon Roll Day
, a cause for celebration!
My son Jeremy meets with some of his friends every other week; and I, of course, am always looking for people to feed, in order to not ingest thousands of calories myself every time I bake. So Jeremy brought these rolls to his last get-together, to share the bounty and the sugar rush.
These aren't difficult to make; they just take a bit of time and nurturing. They're a perfect weekend project and an ideal way to get children involved in baking. When Jeremy was a toddler, his favorite job was punching down bread dough; he would roll up his sleeve, get his fist ready, then beat down the dough to show it that he was boss!
But even more important than being fun to make and offering some fabulous aromatherapy, these cinnamon rolls are just simply delicious!
Cocoa Cinnamon Rolls with Orange Frosting
Rolls:
1 packet quick-rise yeast
1 tablespoon + 1/3 cup sugar
2/3 cup warm vanilla soy milk
2 eggs
1/4 cup oil
1/2 tablespoon kosher salt
2-1/2 cups flour, divided
1/2 cup cocoa powder
1/3 cup butter, at room temperature
1 teaspoon cinnamon
1/2 cup brown sugar
In a large mixing bowl, combine yeast, 1 tablespoon sugar, and soy milk; let yeast proof for 10 minutes.
Once yeast has proofed, stir in eggs, oil, salt, and remaining 1/3 cup sugar. Stir in 2 cups flour and the cocoa powder until a soft dough forms.
Turn dough onto the counter top and knead in remaining 1/2 cup flour until dough is no longer sticky, adding a bit more flour if needed. Grease another mixing bowl, place dough into it and turn to coat; cover with plastic wrap and with a dish towel. Let dough rise for 1 hour until doubled.
Punch down dough, recover with plastic wrap and the dish towel; let rise for 1 hour until doubled.
Punch down dough, then roll dough out into a 14x16-inch rectangle. Schmear dough with butter to edges.
Stir together cinnamon and brown sugar; sprinkle over dough.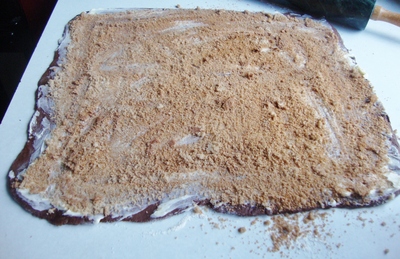 Mary Bilyeu, Contributor
Roll up dough into a cylinder along the long edge (making a 16-inch long cylinder), then cut into 12 pieces.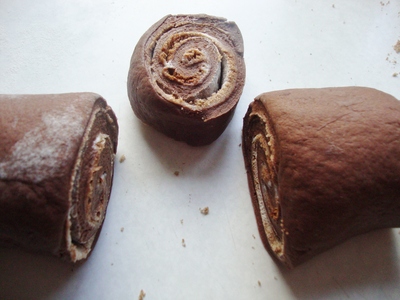 Mary Bilyeu | Contributor
Grease a 9x13-inch baking pan, then place rolls into it in 4 rows of 3. Cover with plastic and with a dish towel, then let rise 1 hour.
Preheat oven to 350 degrees.
Bake rolls for 30-35 minutes, until set. Let cool completely.
Frosting:
2-1/2 cups confectioners' sugar
juice and zest of 1 small orange
2-3 tablespoons half-and-half
In a large mixing bowl, whisk together confectioners' sugar, orange juice, and orange zest until smooth. Stir in half-and-half until frosting reaches desired consistency.
Remove cinnamon rolls from the pan and place them onto a serving platter. Spread frosting over the tops, let frosting set, then serve.
Makes 12 cinnamon rolls.

Mary Bilyeu writes for AnnArbor.com on Tuesdays, Wednesdays, and Fridays, telling about her adventures in the kitchen - making dinner, celebrating holidays, entering cooking contests, meeting new friends ... whatever strikes her fancy. She is also on a mission to find great deals for her Frugal Floozie Friday posts, seeking fabulous food at restaurants on the limited budget of only $5 per person. Feel free to email her with questions, comments, or suggestions: yentamary@gmail.com.

Go visit Mary's blog — Food Floozie — where she enthuses and effuses over all things food-related; and look for her monthly articles in the Washtenaw Jewish News. "Like" her on Facebook, or send a tweet on Twitter, too.

The phrase "You Should Only Be Happy" (written in Hebrew on the stone pictured in this post) comes from Deuteronomy 16:15 and is a wish for all her readers - when you come to visit here, may you always be happy.