Posted on
Wed, Nov 24, 2010 : 12:06 a.m.
Comfort food for the holidays: Haab's Restaurant and Knight's Steakhouse
By Jessica Levine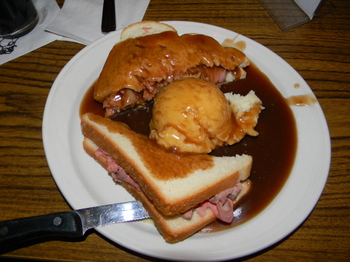 Jessica Levine I Contributor
Define comfort food — your comfort food — the spice, the ingredient, the dish, heck, the whole meal that totally mellows your belly and brain. Food that not only tastes good, but the stuff that has a story behind it, a personal or cultural significance packed into the twists of its rugelach dough.
This is the time of year that we especially have comfort food on the brain. My Thanksgiving meal consists of chocolate pudding pie, stirred and filled to the swing of Cole and Crosby; HoneyBaked Ham's sweet potato soufflé; and turkey/mashed potato sandwiches on Italian bread (for the day after Thanksgiving).
You've got that meal, too. Spiraled ham, maybe, or chicken shawarma. Pork dumplings or the Yooper favorite, cudighi. Tofurkey, mashed potatoes, cranberries or tamales. Blood sausage. Whatever your weakness, Washtenaw County has restaurants ready and able to satiate your craving. In the spirit of Thanksgiving — of all things warm and good — I'm going to debone, defeather and suck the marrow out of two of our local favorites.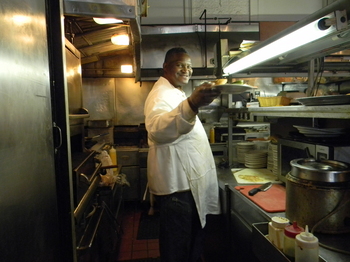 Jessica Levine I Contributor
Haab's Restaurant — Michigan Avenue and Huron Street, Ypsilanti
Food trends — the noodle bar, tuna tartare, cupcakes — come and go. The rib-sticking meals that remind us of our Aunt Lena's cooking, however, remain in the long view. Haab's Restaurant, opened by brothers Oscar and Otto Haab in 1934, has stayed in business through times of societal and economic tumult. Why? Because it has worked to preserve the old standbys, the familiar dishes we associate with the experiences that we have come to love.
Every year, on the third Monday of October, current owner Mike Kabat throws open his doors to the hungry masses and offers three dishes at their 1934 price: Chicken in a basket, spaghetti and barbeque sandwiches.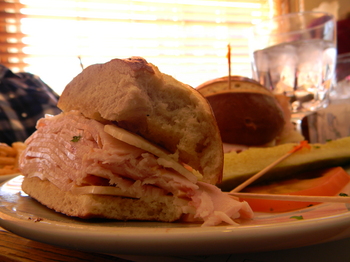 Jessica Levine I Contributor
It is more than the vintage prices, however, that keep Haab's in our hearts and minds. In her article "'Lost Restaurants' of Ypsilanti," Ypsilanti Gleanings' Pat Porter observed that while Haab's has remained in business, many of its neighbors — Turners, The Spaghetti Bender and George's Huron Inn — have come and gone as quickly as tuna tartare. The Haab's difference is in its ambience — the portrait of Abraham Lincoln hanging in one of the dining rooms, the slick, African mahogany bar just through the front door, the pressed tin ceiling and its lazy, sail-sized fans.
Knight's Steakhouse — Dexter Avenue, Ann Arbor
A restaurant's setting and atmosphere is pivotal in creating the optimal comfort food experience. The best among them replicate the aroma, ambience and familiarity of a pleasurable time and place.
Knight's burgers, chops, steaks and cherry crumble from the pie case paired with its iconic locale and memorabilia are the stuff comfort food is made of. Even the restaurant's outside signage, a black knight that shadows Dexter Avenue, is both a mascot and symbol of the restaurant's un-tartare grit.
Jessica Levine I Contributor
Since 1984, Knight's has wracked numerous foodie awards including the Best Place for a Steak Community Choice Award in 2010. The reason is simple — a knife juts out of the bread of my open-faced roast beef sandwich. Beef gravy like magma flows from its ladle-made crater. It is relaxed; I am content. Adding to the cozy setting is the wood-paneling and the drone of the television over the bar. No pretense here.
Michael Karl Witzel, author of The American Drive-In Restaurant, describes his affection for diners: "To this day, the swirling imagery of ice cream cones, Coca-Cola buttons, polished diners, fruit stands, advertising mascots, drive-in theaters, carhop restaurants, lunch counters, free- way exits, intersections, and the occasional glimpse of an abandoned automobile take me way, way back to those flavorful days of my youth."
Thanksgiving spirit
This time tomorrow, turkeys will be brining and yams will be baking in marshmallow glaze. Chocolate pudding pie will be cooling. Tomorrow, over plates piled high, we will watch the Lions lose. Drink wine or egg nog and attempt to play the Wii. As we Saran Wrap our mashed potatoes, Haab's and Knight's will both be preparing for the day ahead — another lunch rush, another round of New York strip steaks. Haab's and Knight's — in celebrating home, family and good food — daily embody the Thanksgiving spirit.
Tell us about your comfort food experiences. Where in Washtenaw County do you go for your favorites?
Jessica Levine profiles the culture and history of Washtenaw County restaurants for AnnArbor.com. Contact her at jlfoodstuffz@gmail.com.