Posted on
Tue, Jun 5, 2012 : 1:50 p.m.
Cooking like Laura Ingalls Wilder on a log cabin hearth at the Waterloo Farm Museum
By Kim Bayer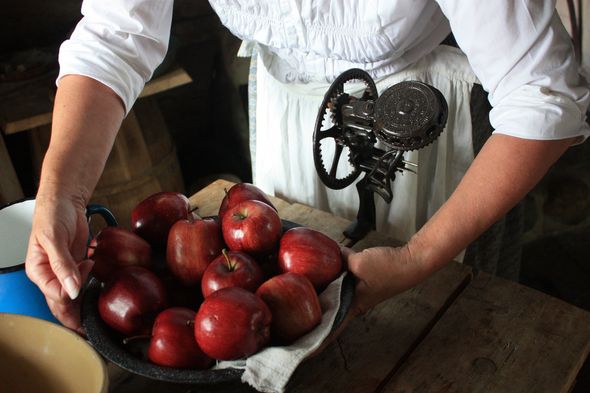 Kim Bayer | AnnArbor.com Contributor
Anyone who ever wished they could live inside a Laura Ingalls Wilder book should know that idyllic American past is only a 30 minute ride away from Ann Arbor. For a trip back in time and a view into old time domestic and agricultural arts in our area, a hidden gem out in the country near Munith is the beautiful Waterloo Farm Museum.
Once known as the Realy Farm, it's now preserved and run as an interactive historic education site by the Waterloo Area Historical Society with classes, historic re-enactments, and events like Pioneer Day and Christmas at the Farm.
The historic Realy Farm is like a miniature Greenfield Village, except you can often participate in activities and not feel overwhelmed by the scale and extent of what is there. My membership entitles me to free admission and notification of upcoming events, like the Open Hearth Cooking Class last weekend. Taught by Mary Ann Spencer in the Farm Museum's 1840s-era log cabin, this class was a chance to see a little of what life was like back in the days of Little House in the Big Woods.
Before they built the farmhouse in the 1880s, the Realy family lived in a cabin like the one on the property. The Log House is a single room, about 18x24 feet with a wide plank floor, a sleeping loft above, a rough-hewn table, and at one end a fieldstone hearth and fireplace with a crane or "witches arm" to hold a cooking pot above the fire.
Perhaps the most important piece of cookware in hearth cooking is the "spider," a cast iron skillet with three stubby little legs built to go directly in the coals of the fire. Dressed in a period costume with a long skirt of sprigged calico and black boots and stockings, Mary Ann Spencer explained that the first people who settled in Michigan may have only had one skillet like that to do all their cooking.
Today, she has a half dozen different cast iron cooking implements, including a couple of spiders, a dutch oven to make the biscuits, a kettle for boiling potatoes, and a granite-ware coffee kettle. When we arrive around 11 a.m., Spencer has both doors of the cabin open and a cheerful hardwood fire going in the fireplace and only the faintest smell of smoke in the air.
I'm excited about the class because I love to cook. Even though I make frequent use of my modern conveniences, I'm interested to see what it would take to get along without them. I've read articles saying that people in the future won't make their own meals any more — just like we don't think of making our own clothes today.
When I mention to Spencer that it seems like we've already lost a lot of the simpler kitchen skills, even without having to build a fire, she agrees, saying, "I clean houses for people and, God love their heart, they couldn't change a lightbulb… If the electric goes off, they're helpless."
Spencer, now 61, has been cooking on a wood stove since she was 9 years old. She says, "I'm from Kentucky, so we had a logging business and I was the cook. They would go out for two weeks, and one of things that was loaded first was our old cookstove… I'd make soup beans, mac and cheese, eggs and bacon. It's something I grew up with all the time. I always thought of Little House on the Prairie."
Today she's going to be making fried chicken, cornmeal biscuits, fried apples, mashed potatoes and an apple cake with coffee — with just one knife, one bowl, and no stove.
The most important thing is "managing the fire, and the order of things." She says "you have to have heavy mitts without holes in them, because this stuff is cast iron. You need your wood right there because you can't run out and split it. And you sure don't want to come in there with hairspray on your hair, because that will catch fire. You've got to fireproof yourself."
And she gets right down to business. While melting the grease in a big skillet, she coats the chicken with flour and lays the pieces in to start browning. She starts the coffee and then says she wants to get the apples going. She sets us to work at the Reading apple peeler that she has clamped to the table. It takes about 20 seconds to stick an apple on the three-prong holder, turn the crank handle and watch the peel come away in one long strip before the mechanism kicks the apple off into a waiting hand.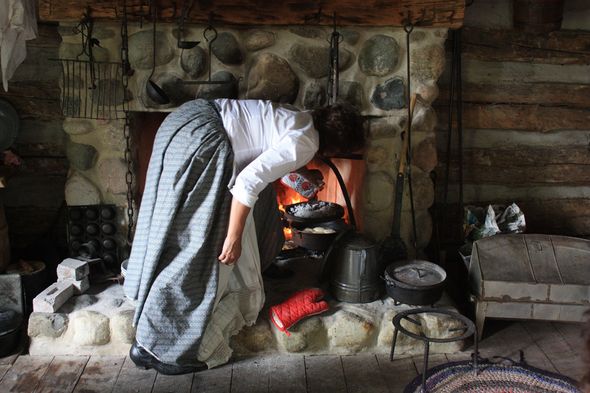 Kim Bayer | AnnArbor.com Contributor
In the meantime, Spencer is making the biscuit dough and tending the fire because the coals are burning down. She says, "Starting off, you need a really good fire to cook. A lot of people think you stick everything over an open flame, but you don't cook over a flame. You get a good fire going and some good coals. You bring out those hot coals and that's how you regulate the heat with the coals. I can make any temperature I want — just add and subtract as you need. It's a constant vigilance."
There's no measuring, not even with a teacup. Spencer just eyeballs the amounts. She's making cornmeal biscuits because she says "white flour was very precious. People grew corn and saved the white flour for a wedding or celebration." Once the biscuits are rolled out, they go into a Dutch oven nestled into the hot coals. Once the deep-rimmed lid is on, coals go on to heat both top and bottom and brown the biscuits.
The fire has been made and re-made each time the coals are moved around, and Spencer has adjusted and checked each pan many times. By about 1:30, the feast is finally ready to eat. Deeply browned chicken smells delicious coming out of the skillet. Potatoes, biscuits and fried apples are also perfectly cooked. The spiced apple cake for dessert is a rich golden brown on top, tender and moist with sweet apple.
Mary Ann Spencer says she has three wood stoves at home, and that's what she uses to cook every day. She sighs, "I'm born too late. I should have been a pioneer lady going across on a wagon train. I love the old skillets, I love the old time way of doing stuff, I try to live it everyday."
It's a joy to see the old cookware returned to its intended use and the skills of the pioneer wife returned to the hearth. I can see that it would take me both time and blisters to be able to make a meal like the one Spencer has made, but with a cord of dry hardwood and my trusty spider I think I could do it. Did I mention that it was delicious?
Mary Ann Spencer offers wood stove cooking classes and special events out of her home in Clayton, Mich. Call to reach her: 517-403-6448.
Kim Bayer is a freelance writer and culinary researcher. Email her at kimbayer at gmail dot com.