Posted on
Fri, Mar 15, 2013 : 5 p.m.
Corner Brewery employee in the running for Best Beard of Craft Beer
By Jessica Webster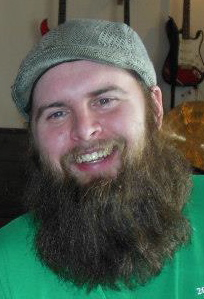 Courtesy of Aaron Stryker
Corner Brewery
packaging manager
Aaron Stryker
started growing a beard as a project last June. Now he's a finalist in CraftBeer.com's
Best Beard of Craft Beer contest
.
"Why did I grow my beard out? I guess I was just lazy," laughed Stryker. "Shaving is hard!"
When CraftBeer.com put out the call for all bearded brewers on the Brewer's Association site to submit a photo for their Best Beard contest, it seemed like a no-brainer to Stryker. He sent in a photo with the caption, "I would like to win because I did not choose this beard, it chose me."
Craft beer fans were encouraged to vote for their favorite brewer beards on Facebook, and Stryker eventually scored enough votes to land in the top 20.
The Corner Brewery is encouraging fans to vote Stryker into the number 1 spot before voting ends on Sunday.
The competition for best beard of craft beard is fierce. Stryker is currently trailing a couple of east coast brewers with impressively long facial hair and two Colorado brewers with remarkably bushy beards.
"I was surprised I made it to the final 20," said Stryker. "In fact, funny thing, I kind of forgot I had entered the contest. I had to start over, and now my beard is kind of puny."
Never fear, beard fans. Stryker's new project is to see just how far he can take this beard.
"I understand, if you take care of your beard, there's a terminal point beyond which it starts to dred up. I am going to see just how long I can grow it before that happens."
You can vote for Aaron Stryker's beard on CraftBeer.com through Sunday, March 17.
Jessica Webster leads the Food & Grocery section for AnnArbor.com. Reach her at JessicaWebster@annarbor.com. You also can follow her on Twitter or subscribe to AnnArbor.com's email newsletters.