Posted on
Tue, Jan 10, 2012 : 10 a.m.
Cottage Pie and poetry - honor your roots
By Kim Bayer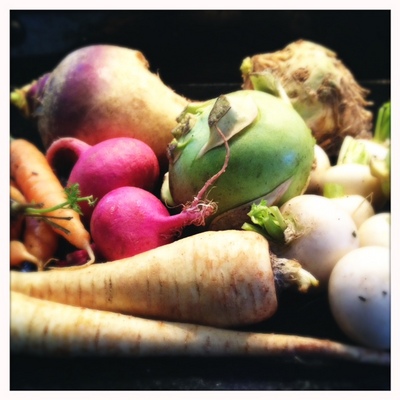 Photo | Kim Bayer
"The work of winter starts fermenting in my head

how with the hands of a lover or a midwife

to hold back till the time is right

force nothing, be unforced

accept no giant miracles of growth

by counterfeit light

trust roots, allow the days to shrink

give credence to these slender means

wait without sadness and with grave impatience"

-- Excerpted from This is My Third and Last Address to You by Adrienne Rich

In this poem, Adrienne Rich observes the personal and philosophical implications of dark days, but certainly the edible implications are relevant as well. Whether in seasonal or emotional winter, trust roots for the sustenance they provide and for the hope they anchor.
If winter is a time to honor roots, one of the best ways I know to enjoy them is in a Shepherd's Pie. This dish of minced or shredded meat topped with mashed potatoes is more properly called a Cottage Pie when made with beef. And as of last weekend, our wonderful Ann Arbor Farmers' Market still had bushels of roots on offer.
I like this recipe I've developed because it uses half a dozen kinds of roots that I might otherwise be at a loss to imagine how to eat. Alternatively, you can just use potatoes and it will still be good.
But last night, the Cottage Pie I made with celeriac, rutabaga, parsnips, turnips, kohlrabi, carrots, potatoes and onions was superior! Need I mention that all the ingredients came from farmers I know?
Sunday Dinner Cottage Pie
1 pound ground beef

1/2 large onion, chopped fine

1 clove garlic, minced

2 large carrots, quartered lengthwise, chopped in 1/2-inch pieces

2 parsnips, quartered lengthwise, cored, chopped in 1/2-inch pieces (OR 1 kohlrabi, peeled, chopped in 1/2-inch pieces)

2 scarlet turnips, chopped in 1/2-inch pieces

Salt and pepper to taste

Saute beef with onion and garlic until beef is cooked, about 5-10 minutes. Add salt and pepper. Add remaining chopped vegetables and continue to cook until vegetables are barely tender, another 5-10 minutes. Put into an 8x8-inch Pyrex dish.
1 fist-sized rutabaga, scrub and peel

1 celeriac, scrub and peel

1 pound potatoes, scrub

1 teaspoon salt

1/2 cup milk

Prepare all roots and then cut them into 1-inch chunks. Cover in a large pot with cold water, add salt, and bring to a boil. Simmer 10-20 minutes until pieces are very tender. Drain. Add milk (along with additional salt and butter to taste), and heat until milk bubbles. Mash roots with a potato masher. Top beef mixture with mashed roots. Dot with butter. Put into hot 350 degree oven and bake for 30 minutes, until golden brown.
Wait without sadness and with grave impatience until it comes out of the oven. Serve with a glass of red wine and an arugula, pear and goat cheese salad.
Kim Bayer is a freelance writer and culinary researcher. Email her at kimbayer at gmail dot com.