Posted on
Fri, Jan 27, 2012 : 2:07 p.m.
Couscous Salad with Eggplant and Feta suitable as vegetarian main course or a side for a lamb dish
By Peggy Lampman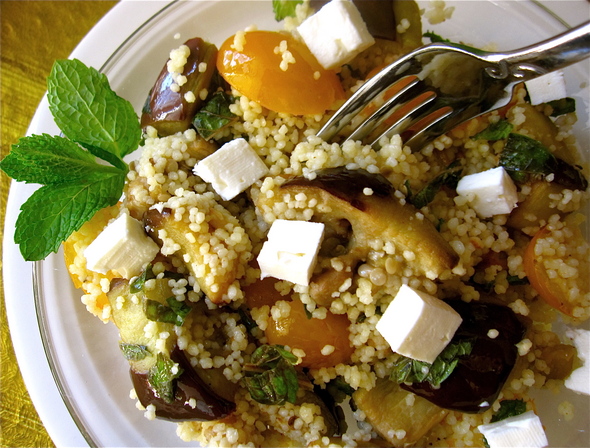 Peggy Lampman | Contributor

mean fighting machine!
With the unseasonably warm weather we're having, I'm thinking a vegetarian, main course salad loaded with beefy eggplant and tangy feta will scratch the itch.
This salad is splendid with any type of lamb; roast lamb, lamb chops, ground lamb patties or lamb kebobs. It may also be made up to 24 hours in advance; simply reseason and toss with the tomatoes, feta and mint just before serving.
Time to drain eggplant: 30 minutes
Active Time: 15 minutes
Number of servings (yield): apx. 8 servings
Ingredients:
2 eggplants
2 tablespoons plus 1/2 cup extra virgin olive oil
10 ounces couscous, plain or whole grain
1/4 cup freshly squeezed lemon juice (1-2 lemons)
1 teaspoon garlic
1/2 teaspoon coriander, optional
1 pint (10 ounces) red or yellow grape tomatoes, washed and halved
1/2 cup (3/4 ounce) loosely packed mint leaves, washed and chopped, reserving extra sprigs for garnish
3/4 cup crumbled feta cheese, plus 1/4 cup cubed feta for garnish
Instructions
1. Wash eggplant and, with a vegetable peeler, remove strips of skin leaving thin black stripes on eggplant. Cut into 1/2-inch slices, lightly salt and place on a clean cloth or paper towels. Allow moisture to drain from eggplant 30 minutes.
2. Preheat oven to 425 degrees.
3. Cut eggplant into 1-inch diced pieces (you should have 6 cups diced eggplant) and toss with 2 tablespoons olive oil. On a foil-lined baking sheet, bake eggplant on middle rack of oven until lightly browned and just tender, 10-12 minutes. Reserve.
4. Cook couscous according to package instructions.
5. Make a dressing by whisking together lemon juice, garlic, coriander, if using, and remaining 1/2 cup extra virgin olive oil. Toss couscous, eggplant, cherry tomatoes, mint and feta with dressing. Garnish with reserved mint sprigs and feta.
My new web site has recently been launched (www.dinnerFeed.com)! I'm a real-time food writer and photographer posting daily feeds on my website and in the Food & Drink section of Annarbor.com. You may also e-mail me at peggy@dinnerfeed.com.