Posted on
Wed, Apr 24, 2013 : 8 a.m.
Creamy cornmeal with toasted corn and queso fresco - a fresh and fast dinner
By Mary Bilyeu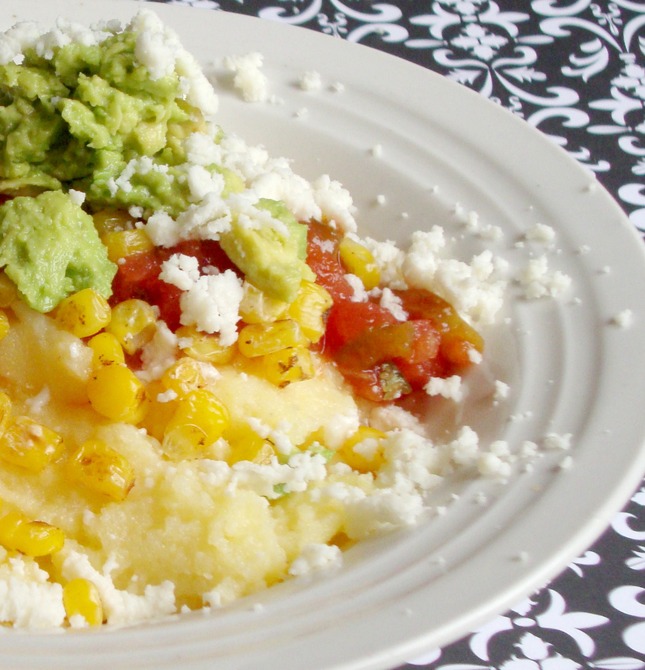 Mary Bilyeu | Contributor
I was in a rush one evening and in need of a quick, easy dinner. Not "fast food," please note. But fast food.
I relied upon fresh ingredients, and I didn't fidget with them very much; I kept them simple and straightforward.
Cornmeal serves as a nice base that is an excellent substitute for pasta or for rice, and it cooks much more quickly. Topped with some salsa, a smushed avocado, some lovely crumbly queso, and some corn that I glamorized a bit by toasting it in a pan, these few items united into a lovely dinner that cooked within 15 minutes.
Fast, fresh, fabulous food!
Creamy Cornmeal with Roasted Corn and Queso Fresco
1 cup water
1 cup skim milk
pinch of kosher salt
2/3 cup medium-grind cornmeal
1 cup frozen corn
3/4 cup fresh salsa
1 cup crumbled queso
1 avocado, mashed
sour cream, for serving
In a large saucepan, bring the water, milk, and salt to a boil; lower heat to "simmer" and whisk in cornmeal until smooth. Continue to cook, whisking occasionally, for 5 minutes as cornmeal thickens to the consistency of grits.
Place corn into a large skillet, and toast for 5 minutes over medium-high heat, stirring frequently, until it becomes golden.
To serve, place prepared cornmeal onto a serving dish. Top with salsa, toasted corn, crumbled queso, and mashed avocado.
Serves 2.

Mary Bilyeu writes for AnnArbor.com on Tuesdays, Wednesdays, and Fridays, telling about her adventures in the kitchen - making dinner, celebrating holidays, entering cooking contests, meeting new friends ... whatever strikes her fancy. She is also on a mission to find great deals for her Frugal Floozie Friday posts, seeking fabulous food at restaurants on the limited budget of only $5 per person. Feel free to email her with questions, comments, or suggestions: yentamary@gmail.com.

Go visit Mary's blog — Food Floozie — where she enthuses and effuses over all things food-related; and look for her monthly articles in the Washtenaw Jewish News. "Like" her on Facebook, or send a tweet on Twitter, too.

The phrase "You Should Only Be Happy" (written in Hebrew on the stone pictured in this post) comes from Deuteronomy 16:15 and is a wish for all her readers - when you come to visit here, may you always be happy.