Posted on
Tue, Dec 25, 2012 : 8 a.m.
Creamy noodle kugel with three cheeses provides comfort on a cold winter night
By Mary Bilyeu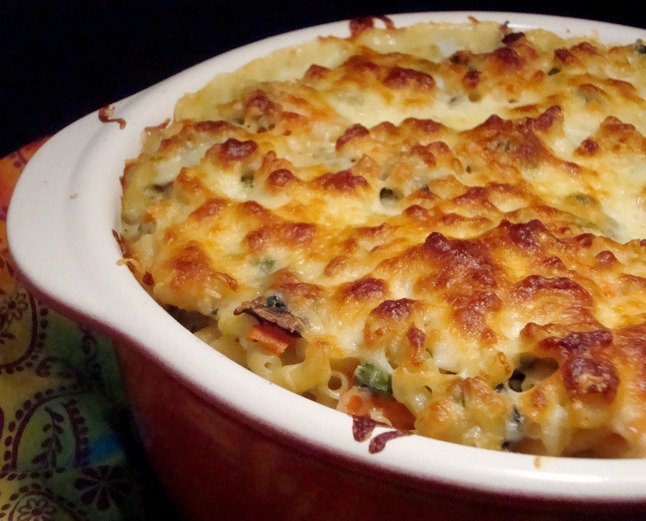 Mary Bilyeu | Contributor
Faye Levy
's cookbooks are such classics, such standards, that they belong in every collection; because she is an authority on Jewish cooking, her books especially belong on my own shelves.
Somehow, though, I had missed 1,000 Jewish Recipes, which Craig very sweetly gave me for my recent birthday. The book contains recipes for all my favorite traditional foods, as well as for dishes to serve at holidays; there is also a wealth of information about international Jewish cooking.
This is a wonderful resource both for new dinner ideas and also for the simple joy of reading the stories behind many of the recipes. The best cookbooks, of course, don't just tell you how to prepare food; they tell the history of a dish, share family lore, and are just as entertaining to read as they are to cook from.
Because I had all of the ingredients on hand, and it sounded particularly wonderful on a cold and wintry day, I started my adventures with this cookbook by making the Creamy Noodle Kugel with Three Cheeses (kugel = casserole). A rich, creamy vegetarian pasta dish, this is consummate comfort food for these dark, chilly days and evenings. It's a perfect dish for an informal gathering of family and/or friends.
You can make it your own by adding, subtracting or substituting vegetables; you could also add tuna or chicken, if you'd like. But made "as is," it is a thing of beauty. Hearty and substantial, the casserole is delicious. A salad, some good bread, a glass of wine... this is all you need to complete your meal.
Creamy Noodle Kugel with Three Cheeses (slightly adapted from Faye Levy's 1,000 Jewish Recipes)
Faye writes: "Unlike most kugels, this one features a cream sauce instead of eggs. It's a meal in a casserole, with a colorful medley of vegetables and... three kinds of cheese."
1 pound macaroni
2 large carrots, julienned
2 cups frozen peas
1/4 cup butter
1 small onion, chopped
8 ounces sliced mushrooms
1 large zucchini, julienned
2 cups baby spinach leaves
salt and pepper to taste
pinch of red pepper flakes
1-1/2 teaspoons all-purpose salt-free seasoning
pinch of nutmeg
1/4 cup flour
2 cups skim milk
1 15-ounce container cottage cheese
3/4 cup shredded mozzarella cheese
1/4 cup shredded Parmesan cheese
Preheat oven to 375 degrees. Grease a 2-1/2 quart casserole dish.
Prepare the macaroni according to package directions, cooking the carrots and peas in the pot along with the pasta; drain.
In a large saucepan, melt the butter over medium heat. Add the onion, mushrooms, and zucchini; saute for 2-3 minutes until vegetables are softening. Add spinach, salt, pepper, red pepper flakes, all-purpose seasoning, and nutmeg; cook until spinach is wilted.
Stir in flour and coat everything with it. Slowly pour in the milk, stirring to incorporate each increment before pouring more. Cook 5 minutes or so, until sauce thickens.
Stir in cottage cheese, then pour everything into the prepared casserole dish.
Sprinkle with the mozzarella, and cook for 20 minutes. Sprinkle with the Parmesan and cook for 15 more minutes until cheese is golden brown and casserole is bubbling.
Serves 8-10 generously.

Mary Bilyeu writes for AnnArbor.com on Tuesdays, Wednesdays, and Fridays, telling about her adventures in the kitchen - making dinner, celebrating holidays, entering cooking contests, meeting new friends ... whatever strikes her fancy. She is also on a mission to find great deals for her Frugal Floozie Friday posts, seeking fabulous food at restaurants on the limited budget of only $5 per person. Feel free to email her with questions, comments, or suggestions: yentamary@gmail.com.

Go visit Mary's blog — Food Floozie — where she enthuses and effuses over all things food-related; and look for her monthly articles in the Washtenaw Jewish News. "Like" her on Facebook, or send a tweet on Twitter, too.

The phrase "You Should Only Be Happy" (written in Hebrew on the stone pictured in this post) comes from Deuteronomy 16:15 and is a wish for all her readers - when you come to visit here, may you always be happy.