Posted on
Tue, Nov 15, 2011 : 4:23 a.m.
Crispy Corn Trout scratches the itch when you have a comfort food craving
By Peggy Lampman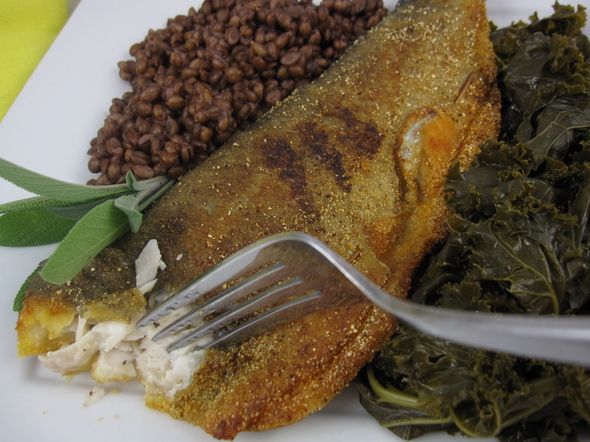 Peggy Lampman | Contributor

Peggy Lampman's Tuesday dinnerFeed
I recently had fried catfish and black-eyed peas when out for dinner. You'd think I was eating dinner in the rural South, but I was actually dining outside Ithaca, N.Y. It's comfort food for me and the memory of the meal was haunting. I have a similar recipe for trout that will scratch the itch.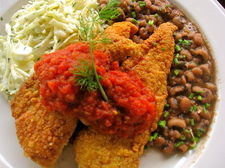 Quality trout is easy to recognize. Fresh trout never smells fishy; it smells fresh. The eyes should appear bright and clear, almost alive. The gills should be reddish, and the skin covered with clear, slippery slime. Very fresh trout should be so slippery they are difficult to hold. Fresh trout flesh will give slightly when you press it with a finger, then spring back into shape.
To store trout, remove packaging, rinse under cold water and pat dry with paper towels. Fish deteriorates when it sits in its own juices, so rewrap the trout and store in the coolest section of your refrigerator.
I purchased this trout gutted, with the head removed. It is easier to fit in my pan. It mady be November, but with the mild temperatures we've been having, the sage bush remains hearty. Stuffing this with fresh thyme and thinly sliced onion is delicious, too. Kale is alive and well in the garden and makes the perfect side, particularly when braised in stock and a bit of cider vinegar.
If concerned about trace contaminants found in skin, remove before eating. The skin actually protects the fish from sopping up much fat.
Trout is one of those fish that are regularly on sale at local groceries; dig in.
Yield: 4 servings
Time: 20 minutes
Ingredients
Four 10-12 ounce whole trout, boned
8 fresh sage leaves
1/2 cup ground cornmeal or all-purpose flour
1/2 cup grape seed oil
1 lemon cut into 8 wedges
Directions
1. Rinse the trout and pat dry. Lightly season the inside cavity with kosher salt and freshly ground pepper.
2. Place 2 sage leaves in the cavity of each fish. Close the cavity by threading a wooden skewer or toothpick through the flaps; dredge both sides in cornmeal.
3. Heat two large skillets over medium high heat and divide the oil between them. When the fat shimmers add the fish and fry until crisp and golden brown, about 5 minutes. Carefully flip the fish with a large flat spatula. Continue to cook the fish on the other side until just cooked though and golden, about 4 minutes.
4. Transfer the fish to a platter and serve immediately with the lemon wedges.
My new web site (packed with holiday recipes) is coming soon! But in the meantime, If you're looking for a specific recipe, click here for dinnerFeed's recipe search engine; type the recipe or ingredient into the search box. I am a real-time food writer and photographer posting daily feeds on my website and in the Food & Drink section of Annarbor.com. You may also e-mail me at peggy@dinnerfeed.com.