Posted on
Tue, Jan 31, 2012 : 4:11 a.m.
Crispy Fried Salmon Cakes with Caper-Horseradish Sauce will be a bright spot in your gray winter day
By Peggy Lampman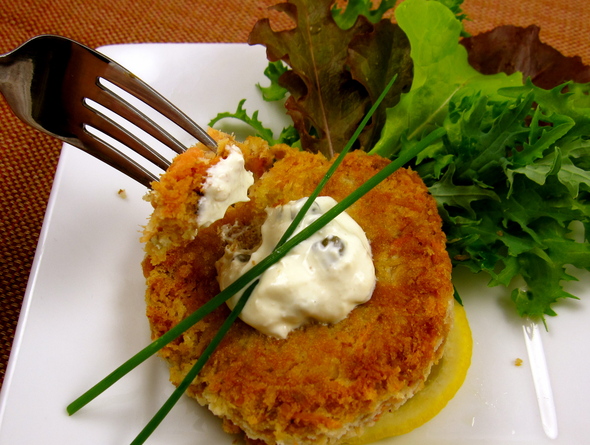 Peggy Lampman | Contributor

mean fighting machine!
Has the seamless gray sky and wind whipping through branches brought you down? Does the thought of buying groceries, loading them into your car, then chasing down your runaway cart in the grocery lot make you crazy? Even though the weather's warm for January, I still want to hunker down, and avoid shopping.

So praise the heavens for my larder of pantry staples. Here's a favorite pantry recipe, the only fresh ingredient being a potato, a few scallions (onion or garlic may be substituted) and optional lemon wedges.
To date, if I'm going to use canned salmon, I prefer the flavor of Deming's Red Sockeye Salmon, from one of the better canneries.The flavor of any canned salmon is stronger than if I'd used leftover fresh salmon, but this dish is pretty dang good, especially when dunked into the sauce. Another semi-pantry favorite is Al Dente Pasta with Tuna, Spinach and Tomatoes, if you're craving carbs.
The sun just peeped through the clouds and the skies are clearing. If this strange warm January weather continues, you may find me tomorrow shopping for groceries, and pulling out the grill.
Yield: 5 salmon cakes
Time: (including sauce preparation): 30 minutes
Ingredients
1 large egg, beaten
1 teaspoon Old Bay Seasoning
1 medium-sized (1/2#) Idaho potato, peeled and grated
1 (14 3/4 ounce) can Deming Sockeye Red Salmon, dark skin and large bones removed and discarded, if desired; salmon meat broken up with a fork
2 tablespoons chopped green or grated onion
2 cups panko (Japanese bread flakes)
Canola oil for frying
Lemon wedges, optional
Ingredients for Caper Sauce (optional)
1 tablespoons mayonnaise
2 tablespoons strained, plain Greek yogurt or sour cream
1 teaspoon Dijon mustard
1-2 teaspoons horseradish
2 tablespoon capers
Directions
1. Preheat oven to 225 degrees. Combine egg and Old Bay Seasoning. Stir in grated potato, salmon and onion. Form into 5 patties.
2. Dredge both sides of each patty into panko, firmly pressing panko into patty.
3. In a large sauté pan or cast iron skillet, pour enough oil to coat bottom of pan 1/4-inch deep. Heat oil to medium-high heat. Fry patties, in batches, 5-6 minutes on each side.
4. When cooked through, place on a baking sheet lined with paper towels, in the warm oven until ready to serve. Serve with Caper Sauce, if using.
My new website has recently been launched (www.dinnerFeed.com)! I'm a real-time food writer and photographer posting daily feeds on my website and in the Food & Drink section of Annarbor.com. You may also e-mail me at peggy@dinnerfeed.com.