Posted on
Wed, Aug 3, 2011 : 4:42 a.m.
Stuffed Squash Blossoms with herbed goat cheese a delicate seasonal treat
By Peggy Lampman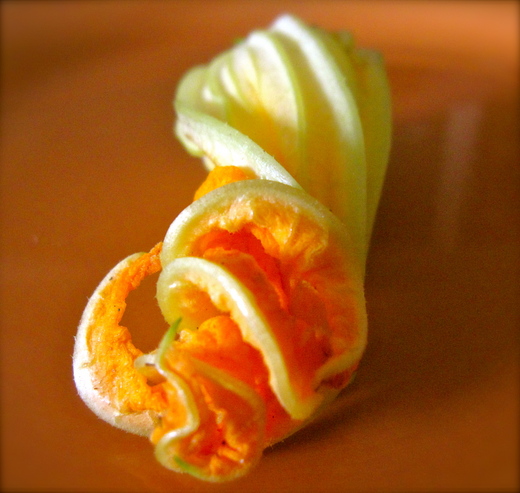 Peggy Lampman | Contributor

In their twisting palate of yellow, orange and green, squash blossoms never fail to seduce. And what better way to appreciate them then by eating them? After all, they shrivel within a day or two after plucking from the vine.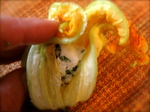 Peggy Lampman | Contributor
Here's my favorite recipe (easier to make than you'd imagine), which is further enhanced when serving with a light marinara sauce for dipping, or served atop a bed of greens lightly dressed with a simple vinaigrette.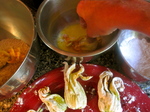 Yield: 12 crispy stuffed blossoms
Ingredients:
8 ounces soft (spreadable) goat cheese
1 tablespoon minced shallot (garlic or snipped chives may be substituted)
1/3 cup chopped fresh herbs, such as thyme, tarragon and basil
12 fresh squash blossoms
1/2 cup white flour
2 eggs, beaten
1 cup panko (Japanese bread crumbs)
1 cup canola oil, for frying

Directions
1. Combine goat cheese, shallot and herbs and season to taste with freshly ground pepper.
2. Form 12 rounded teaspoons of goat cheese. Carefully make a slit through each blossom, leaving the stem intact. Stuff each blossom with a teaspoon of the herbed cheese. (Refer to photo above.) Gently twist closed and set aside.
3. In each of three bowls place flour, eggs and panko. Coat each blossom in flour, dip in egg, then completely coat in panko.
4. Place oil in large saute pan pan and heat to medium-high heat. Oil should sizzle when you put a bit of panko in it.
5. Gently transfer each blossom to the hot oil and cook until golden brown, turning to brown all sides, about 4 minutes. Transfer blossoms to paper towels to drain. Serve.
Looking for a specific recipe? Click here for dinnerFeed's recipe search engine; type the recipe or ingredient into the search box. I am a real-time food writer and photographer posting daily feeds on my website and in the Food & Drink section of Annarbor.com. You may also e-mail me at peggy@dinnerfeed.com.