Posted on
Mon, Jan 23, 2012 : 4:46 p.m.
Crock Pot Chicken Cacciatore with Al Dente Garlic Herb Pappardelle tastes even better the second day
By Peggy Lampman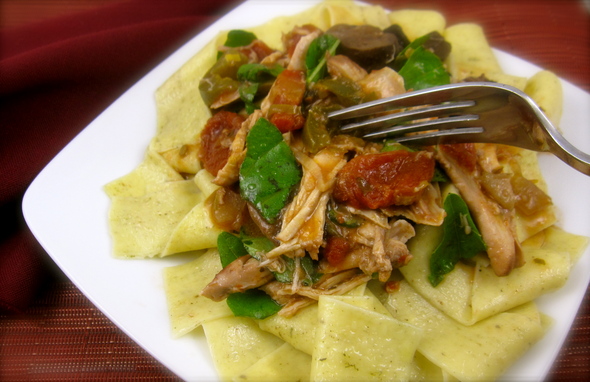 Peggy Lampman | Contributor

mean fighting machine!
Here's an "I'll taste even better tomorrow" recipe that will set your teeth on edge today. And if you pair it with Al Dente's latest creation, their toothsome Garlic Herb wide noodle pasta, I guarantee you'll leave the table a happy camper.
A warning: Just because it's a slow cooker recipe doesn't mean it will only take five minutes to toss into the pot and simmer all day. There's a solid 30 minutes of chopping, skinning and prepping involved, but the results are worth the effort.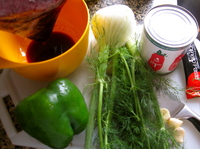 I once received a great tip from Rebecca Bawkon, who is the wine consultant at Busch's South Main store: Freeze leftover wine. You read me correctly. I have a big ziplock in my freezer reserved for leftover reds.
It's a pity to discard good wine, so I pour the leftovers into the ziplock, then chip off and thaw the required wine when making long simmering stews, such as in the recipe below. Of course she wouldn't recommend freezing leftover wine if you intend to drink it, heaven forbid, but when using wine in a recipe that incorporates heat, leftover frozen then thawed wine works fine.
Active Time: 35 minutes
Crock pot simmer time: 3-4 hours on high heat; 8-9 hours on low
Ingredients
2 tablespoon extra virgin olive oil
8 cups aromatics such as onions, leeks and fennel, sliced
3 to 4 pounds bone-in chicken thighs, skin removed
1 large green bell pepper, seeded and sliced
8-12 ounces mushrooms, such as mini bellas, stems trimmed and cleaned, cut in half
1 ( 28-ounce can) whole peeled tomatoes, coarsely chopped (reserve juice)
3 tablespoons tomato paste
1 cup red wine (see my notes above regarding using leftover frozen wine)
1 1/2 tablespoons finely chopped garlic
2 teaspoons dried oregano
2 teaspoons fennel seeds
1 bay leaf, broken in half
1 teaspoon crushed red pepper
2-3 tablespoons white flour
Fresh torn basil
Directions
1. Pour olive oil in the bottom of cooker. Layer half of aromatics over bottom of a 6-quart slow cooker. Add chicken pieces and cover with remaining aromatics. Top with peppers, mushrooms and chopped tomatoes.
2. Whisk tomato juice from canned tomatoes with tomato paste, wine, garlic, oregano, fennel seeds, 2 teaspoons kosher salt and red pepper together. Pour over chicken and vegetables. Place bay leaf pieces in pot and cover. Cook on low heat 7 to 9 hours or on high 3 to 4 hours.
3. An hour before turning off heat, ladle a cup of the hot liquid into a bowl. Whisk flour into hot liquid to make a paste, then whisk paste into slow cooker liquid. Let simmer another hour, or until brew has thickened and chicken is tender to the bone. Stir in basil just before serving.
My new web site has recently been launched (www.dinnerFeed.com)! I'm a real-time food writer and photographer posting daily feeds on my website and in the Food & Drink section of Annarbor.com. You may also e-mail me at peggy@dinnerfeed.com.