Posted on
Thu, Oct 27, 2011 : 1:33 p.m.
Crockpot carnitas - easy slow-cook method yields tender results
By Jessica Webster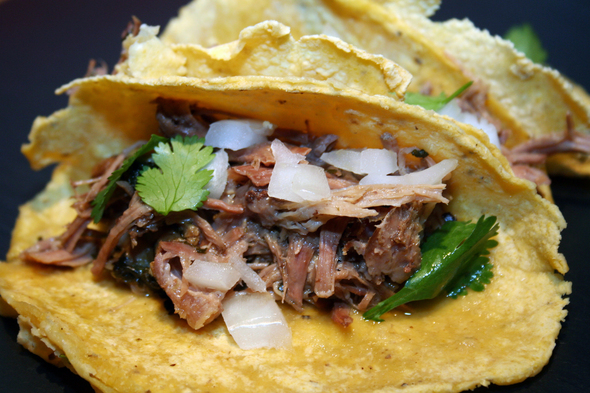 Jessica Webster | AnnArbor.com
A few weeks ago I shared
my family's chocolate chip recipe
in this column. In the write-up, I mentioned my lack of recipe organization skills; revealing that my aborted attempt at a recipe journal contained only three recipes: the chocolate chip cookies, my grandmother's brownie recipe, and a recipe for
crockpot carnitas
.
The response to this cookie column has been tremendous. Several of you wrote to share your favorite approach to chocolate chip cookies, but by far the majority of the emails were seeking my crockpot carnitas recipe.
I'm happy to share this recipe, but it's almost embarrassingly simple. Just stuff the pork shoulder roast with garlic and place it in the crockpot with cilantro, a hot pepper, salt and pepper and beer. Cook it low and slow while you're at work. When you come home, your whole house will smell amazing. Serve it with some warm tortillas, and your family will thank you.
When preparing this column, I checked out other carnitas recipes online. A couple of the recipes I looked at suggest trimming the fat from the roast before cooking it. That sounded counterintuitive, so I asked my butcher. I was right; he reacted in horror. Traditional Mexican carnitas are cooked in lard (manteca). You want your pork to slowly cook in its own fat, creating delicious, moist, fork-tender chunks of meat.
I find that the meat cooks just the way I like it in the crockpot, but if you like some crispier bits in your carnitas, try spreading the meat out on a rimmed cookie sheet and stick it under the broiler for about 5 minutes.
Crockpot Carnitas adapted from a recipe by Diana Rattray
2 to 4 pound pork shoulder roast
4 garlic cloves; each clove cut into 4 pieces
1 fresh jalapeno pepper
1/2 bunch fresh cilantro, chopped
salt and pepper to taste
1 can beer (12 ounces)
corn tortillas
With a knife, cut several small slits into the roast. Insert pieces of garlic cloves in roast; place in crockpot with whole pepper and half bunch of chopped cilantro. Season to taste. Pour in beer. Cook on HIGH 4 to 6 hours until fork tender (LOW 9 to 11 hours). Remove meat; shred. Serve with warm tortillas, with your choice of garnishes. Suggested garnishes: lime, diced tomatoes, onions, shredded lettuce, sour cream, cheese, salsa, guacamole and cilantro.
Jessica Webster leads the Food & Grocery section for AnnArbor.com. You can reach her at JessicaWebster@AnnArbor.com.
Did someone mention manteca? Here's a great 1959 clip of Dizzy Gillespie performing his song "Manteca." It doesn't get much better than this.