Posted on
Thu, Sep 20, 2012 : 12:05 p.m.
Crunchy Asian Cabbage & Chicken Salad perfect for autumn potlucks and tailgate parties
By Peggy Lampman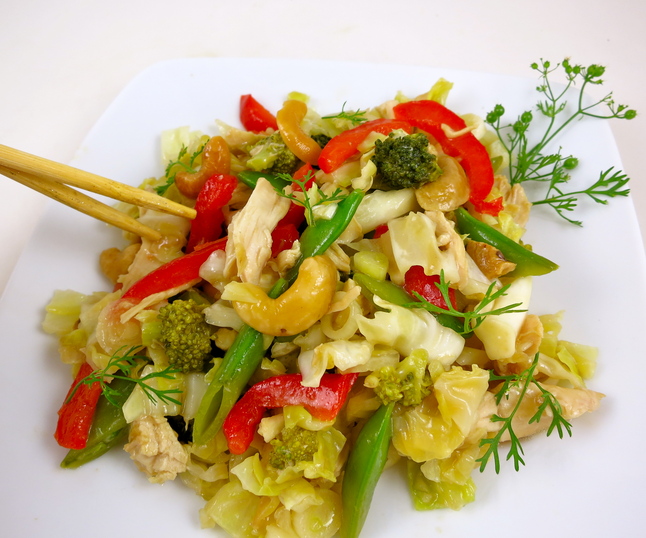 Peggy Lampman | Contributor

My dinnerFeed web site is a lean,
mean fighting machine!
To receive my lastest dinnerFeed posts
by email, sign up here.
Cabbage, stoic cruciferous of the vegetable world, conjures bitter cold winters, patched-together woolens, and hardscrabble times. Through the centuries, the cabbage has been a mainstay, relied upon by civilizations to nourish themselves through winter, as hunger taps the frosted panes.
Dostoevsky refers to cabbage soup in various works, such as passages in "The Thief": "....and, if some cabbage-soup should happen to come our way, then we could both fill up to the throat."; and "Crime and Punishment": "...And what was the food to him — the thin cabbage soup with beetles floating in it?"
You wouldn't guess its humble roots at this time of the year. Literary prestige aside, at the Farmers Market, cabbage is the Belle of the Ball; Queen of the Sun reigning glorious in the garden. I grow cabbage as ornamental border plants, which provide color and texture to my autumn garden when the usual suspects — mums, asters, chrysanthemums — have lost their bloom.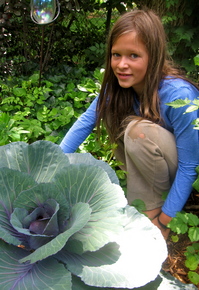 Decked in scalloped leaves nuanced in shades of purple and green, the cabbage's leaves fan a tight nutritional globe. It's a wonder, in fact, this showy beauty gives sustenance to civilizations, providing such nourishment.
But, indeed it does. The health components of cabbage give it the star status it so richly deserves. Jonny Bowden, aka: "The Rogue Nutritionist", calls cabbage "the most important (vegetable) in the world from the point of view of nutritional benefits and cancer-fighting ability."
I'm always on the lookout for ways to incorporate healthy cabbage into my diet. I was delighted when a friend, Linda Cole (known locally as the go-to woman when you're looking for a healthy and delectable crowd-pleasing recipe), brought the components of this Crunchy Asian Cabbage & Chicken Salad to a recent potluck.
Dumping the individual salad components she'd brought to the party into a bowl, she tossed them with the dressing right before serving. This salad would be the ideal solution if you're looking for totable recipes for autumn tailgates and potucks.
You could substitute any cabbage varietal for the savoy cabbage Linda chose, but I appreciated her selection. Savoy has beautiful crinkly leaves, the outer moss-colored leaves encasing tight bound leaves of a celery color. To my palate, it has a sweeter, milder flavor than some of its other cousins, perfect served uncooked in salads such as this.
Linda tells me one could substitute shrimp for the poached chicken, if desired, but the chicken was perfect. Poaching is a quick and easy. You may use skinless, boneless chicken breasts or less expensive bone-in breasts, with or without the skin. (Boning the breasts after poaching requires a bit more work, but the bones add flavor to the meat.)
Place the chicken in a single layer in a large pot and cover with cold salted water. (Simply water will do the job but I always add dried herbs — such as rosemary, basil and thyme — peppercorns and onion, carrot or celery.) Cover the pot and bring to a boil. Once boiling, remove from heat and let stand, tightly covered, 12-25 minutes depending on the thickness of chicken breast and amount of chicken you are cooking. Remove the chicken from the poaching water and chill well before cutting. (Note that the poaching liquid my be strained, reduced and used in soups or sauces.)
To save time, purchase then remove meat from a rotisserie chicken; chop. Linda also recommends Cardini's Roasted Sesame Asian Dressing, which you may purchase at Busch's and other area groceries, as a good substitute for the dressing.
I followed Linda's recipe also using Savoy cabbage. It's not growing in my garden but I couldn't bear sacrificing one of my showy cabbages for the recipe. If, heaven forbid, this winter follows last year's mild season, in the spirit of Dostoevsky, I will be harvesting the cabbages after the holidays.
(Recipe compliments of Linda Cole)
Yield: 10 servings
Time: 45 minutes
Ingredients for Salad
1 pound cabbage, chopped or shredded
1 pound poached chicken breast, diced (see above notes)
2 cups small (1/2-inch) broccoli florets, blanched
1 cup sugar snap peas, blanched, then cut in half
1 red, yellow, or orange bell pepper; seeds and membranes removed then sliced
1 cup sliced scallions
1 1/2 cups whole cashews
Chopped cilantro, optional
1 recipe for dressing (below) or Asian-styled bottled dressing as needed (well-shaken)
*Savoy pictured
Ingredients for Dressing
1/4 cup soy sauce
2 tablespoons white or rice wine vinegar
2 tablespoons smooth peanut butter
1 tablespoon sugar
1 teaspoon minced garlic
1/2 cup canola oil
1 tablespoon sesame oil
Directions
1. To make the salad, toss cabbage, chicken, broccoli, peas, peppers, scallions, and cashews together, adding cilantro to taste, if using. (Note that if you're taking this to a party or tailgate, keep all the ingredients in a separate bag and toss together just before serving.)
2. To make the dressing, whisk together soy sauce, vinegar, peanut butter, sugar, garlic, canola and sesame oils. Thoroughly combine.
3. Slowly add dressing to salad to taste, adding kosher salt to taste, if desired. Serve.
Peggy Lampman is a real-time food writer and photographer posting daily feeds on her website and in the Food & Grocery section of Annarbor.com. You may also e-mail her at peggy@dinnerfeed.com.