Posted on
Thu, Apr 4, 2013 : 7:29 a.m.
Crusty No-Knead Gruyere and Chive Bread - bake a loaf to show someone you care
By Jessica Webster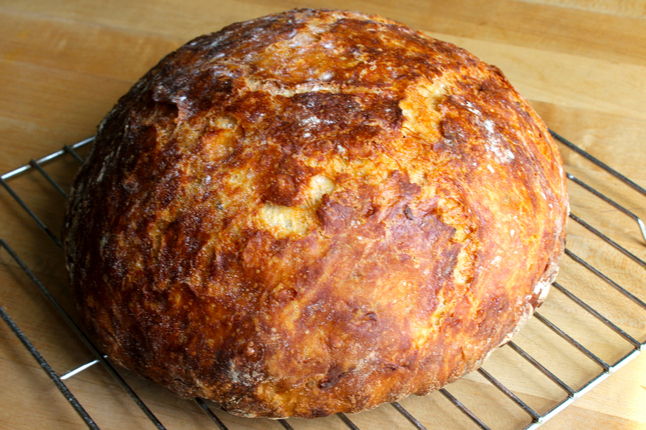 Jessica Webster | AnnArbor.com
When my friend Colleen started dating her beau a few years ago, we knew right away that he was a keeper. He brought her fresh-baked loaves of
bread
from his kitchen. Before we even met him or knew his name, we called him The Baker.
"Are you going to see The Baker again, Colleen? What kind of bread did he make this time? Do you think he'd want to impress your friends enough to maybe make us some bread too?"
There's something very special about baking bread for someone.
There's a time commitment and a planning component. Baking bread for someone says: "I didn't just grab this on my way to your house. I thought of you yesterday when I made the dough and set it to rise. I thought of you today when I put it in the oven and waited for it to turn a perfect golden brown."
Maybe I'm especially impressed by people who bake bread because it involves skills in two areas where I operate at a deficit: planning and science. I love cooking because it's all about experimentation and improvisation. Bread baking, though, is usually quite the opposite of that, and my forays in that world have fallen (literally) flat. That is, until I met the no-knead bread recipe.
This recipe, adapted slightly from a blog called Simply So Good, is a variation on the now-famous no-knead bread recipe from the Sullivan Street Bakery in New York. The basic loaf has only four ingredients: flour, instant (or rapid-rise) yeast, salt and water.
I added Gruyere and chives because, well, everything tastes better with cheese. Next time I might use rosemary or minced shallots, or maybe bacon and Gouda. Perhaps use chunks of cheese instead of grating it; the way Zingerman's Bakehouse does with their parmesan pepper bread.
I tried this recipe both with all-purpose and with bread flour and in a cast iron skillet and a Le Creuset-style enamel cast iron Dutch oven (mine is a $35 Target knock-off that works wonderfully). The loaf made with bread flour came out a little flatter but had a really nice chew to it. I considered both to be a success. But the loaf I baked in my cast iron skillet ended up with a much thicker, darker, nearly impenetrable bottom crust. I'll stick with the enameled Dutch oven next time.
Crusty No-Knead Gruyere and Chive Bread adapted from SimplySoGood.com
3 cups unbleached all purpose flour
1 3/4 teaspoons salt
1/2 teaspoon Instant or Rapid-rise yeast
1 1/2 cups grated Gruyere cheese
2 - 3 tablespoons chopped chives
1 1/2 cups water

In a large mixing bowl, whisk together flour, salt and yeast. Stir in cheese and chives. Add water and mix until a shaggy mixture forms. Cover bowl with plastic wrap and set aside at room temperature for 12 - 18 hours (overnight is perfect).
Heat oven to 450 degrees. When the oven has reached 450 degrees, place a cast iron pot with a lid in the oven and heat the pot for 30 minutes. Meanwhile, pour dough onto a heavily floured surface and shape into a ball. Cover with plastic wrap and let sit while the pot is heating.
After 30 minutes, remove hot pot from the oven and drop in the dough. Cover with lid and return to oven for 30 minutes. After 30 minutes remove the lid and bake an additional 15 minutes, or until the bread has turned a gorgeous, golden color. Remove bread from oven and place on a rack to cool.
Jessica Webster leads the Food & Grocery section for AnnArbor.com. Reach her at JessicaWebster@annarbor.com. You also can follow her on Twitter or subscribe to AnnArbor.com's email newsletters.