Posted on
Thu, Aug 25, 2011 : 8 a.m.
Cucumber, Tomato and Olive Hors d'Oeuvres a delight for all the senses
By Mary Bilyeu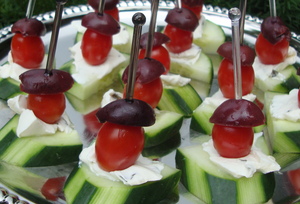 Mary Bilyeu, Contributor
For Tom's reception last week at the 55+ Gallery in the Turner Senior Resource Center, we brought both a blueberry cake and some summery hors d'ouvres.
I always have such a hard time trying to figure out what to make for these events. Because it's August, it only made sense to use some beautiful garden and farmers' market produce rather than puff pastry that can be purchased at any time of year. We wanted something seasonal.
And for some reason, a deconstructed Greek salad got stuck in my mind: cucumbers, tomatoes, lovely Kalamata olives. Feta's rich saltiness was desired, but it was too crumbly for the hors d'oeuvres as we started to envision them, on skewers.
So we substituted something spreadable — herbed cream cheese. And, of course, we left out the gorgeous but messy beets!
These were a delight for all our senses: visually enticing, tantalizing aroma, cool to the touch, crisp to bite into, and vibrantly flavorful.
Cucumber, Tomato and Olive Hors d'Oeuvres
1 English cucumber, sliced 1/4-inch or more thick
1/2 of an 8-ounce container of chive and onion spreadable cream cheese
16 Kalamata olives, pitted, halved lengthwise
32 grape tomatoes
Cut each cucumber slice in half across the slice. Schmear 1 teaspoon of cream cheese onto each cucumber piece. Take a froofy toothpick and skewer an olive half first, then a tomato. Skewer the cucumber last, without pressing the toothpick all the way through; the cucumber should lay flat against a serving tray.
Makes 32 hors d'oeuvres.
Note: Be sure to use wooden toothpicks. The plastic skewers we used were distinctive, but they didn't stay in the cucumber slices very well. Also, if you want the cucumbers to be "striped," simply run a vegetable peeler down the length of the cucumber before slicing it.

Mary Bilyeu has won or placed in more than 60 cooking contests and writes about her adventures in the kitchen. She was thrilled to have her post about Scottish Oatmeal Shortbread named as one of the daily "Best of the Blogs" by the prestigious Food News Journal.
Go visit Mary's blog — Food Floozie — on which she enthuses and effuses over all things food-related. Her newest feature is Frugal Floozie Friday, seeking fun and food for $5 or less ... really! Feel free to email her with questions or comments or suggestions: yentamary@gmail.com.
The phrase "You Should Only Be Happy" (written in Hebrew on the stone pictured in this post) comes from Deuteronomy 16:15 and is a wish for all her readers as they cook along with her ... may you always be happy here.