Posted on
Mon, Apr 23, 2012 : 6 p.m.
Baked Cod with Spinach in Coconut-Curry Sauce - sublime recipe comes from a reader's suggestion
By Peggy Lampman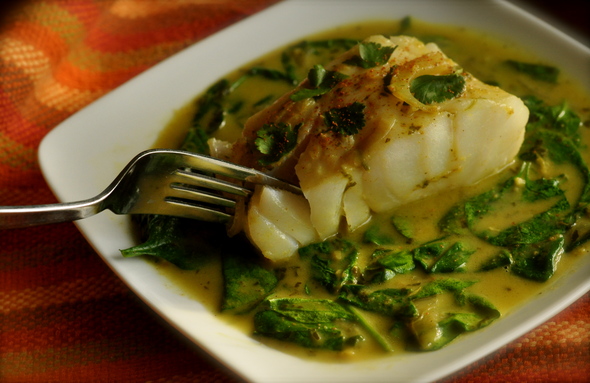 Peggy Lampman | Contributor

mean fighting machine!
Between the recipes that Achla Karmani shared at her Northern Indian Cooking Class, such as Chicken Biryani, and Sid Sharma, a reader who generously shares favorite recipes from his mother country, such as his Curried Striped Bass, I'm amassing quite a array of authentic Indian recipes that are relatively easy to reproduce in your own home kitchen.
The following recipe was sent to me from Sid, who explained the dish comes together quickly and is delicious. Sid was right; the slow simmer of thick cod fillets in a bath of curry, coconut milk and aromatics was sublime.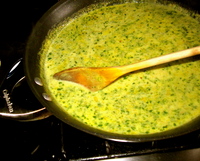 The original recipe from the Alaska Seafood website was penned Alaska Cod Saag Curry, saag being a catch-all for describing a green-leafed dish in Indian and Pakistani cuisine. Make sure you cook up a pot of rice to soak up the sauce.
I eliminated the heavy cream from the original recipe and used whole milk coconut milk instead of lite. As well, I reduced the sauce longer, to insure it was thick enough, and didn't find the sauce needed more than 5 ounces of spinach. When shopping for cod, ask for the thickest cut available.
Oh my goodness; I give this one 5 stars — thanks, Sid!
Yield: 4 servings
Time: 40 minutes

Ingredients
1 tablespoon olive oil
1/2 cup sliced shallots
1 tablespoon minced garlic

1 tablespoon minced ginger
1 tablespoon curry powder
1 can (14 ounces) coconut milk
2 teaspoons fish sauce
2 tablespoons minced cilantro

1/2 teaspoon garam marsala
14 ounces of chicken or seafood stock

4 thick (1 1/2-inch) cod fillets (approx. 6 ounces each)

 5 ounces baby spinach leaves
Cayenne pepper, optional
Directions
1. In a large sauté pan, heat olive oil over medium heat. Stir in shallots, garlic, ginger and curry. Cook, occasionally stirring, until shallots are soft, 4-5 minutes.
2. Stir in coconut milk, fish sauce, cilantro, garam marsala and stock. Simmer over medium heat 5 minutes. Turn off heat and add cod fillets to liquid. Return heat to a simmer, cover pan and cook 3 minutes on each side. Remove fillets and reserve.
3. Turn heat to high and reduce liquid by half, about 10 minutes. Turn off heat and stir in spinach and return fish to pan; reheat fish briefly in sauce and serve.