Posted on
Tue, May 29, 2012 : 4:46 a.m.
Curried Couscous-Lentil Salad with Roasted Sweet Potatoes - dish is both delicious and inexpensive
By Peggy Lampman
Peggy Lampman | Contributor

To receive my lastest dinnerFeed posts
by email, sign up here.
What's that? Black sesame seeds in the dry arborio rice? On closer inspection, it turns out these odd black specks in the rice have tiny wings. Ick! Pantry pests!
If you're not ruthless using up half-filled containers of grains, wheat and legumes in storage, and don't keep them in air-tight containers (guilty!), sometimes these tiny critters pay a visit.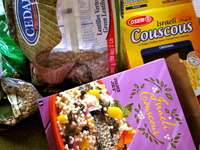 Peggy Lampman | Contributor
I've been meaning to clear out my pantry, and after tossing several perfectly fine half-used containers of dry food, I'm forced to quit procrastinating. I found a Yahoo answers site that goes into great detail discussing the critters and what to do about them. It also explains that the appearance of the pantry pests does not necessarily reflect upon the cleanliness of the housekeeping. That will be my excuse.
With this recipe, I decided to use up a couple of half-empty boxes of Israeli couscous and a few bags of lentils. The amount on hand dictated the amount of vinaigrette I made. I have a couple of sweet potatoes rolling around, and fresh cilantro needs thinning in the garden. I love the flavor of curry, orange and honey together, and this healthy salad is as delicious as it is inexpensive.
In case you're wondering, those are truly black sesame salad atop the salad. Bon Appetit!
Time: 30 minutes
Yield: Approx. 6 cups salad
Ingredients
2 medium-sized sweet potatoes, peeled and cut into 1-inch dice
2 tablespoons plus 1/4 cup peanut oil
1 1/2 cups dry brown lentils
3/4 cup (pearl) Israeli couscous
1/4 cup peanut oil
Finely chopped zest and juice from 1 orange
1 teaspoon honey
2 teaspoons curry powder
1/2 teaspoon turmeric, optional
1/2 scant teaspoon minced garlic
2 packed teaspoons grated ginger
Cayenne
Chopped cilantro, optional
Black sesame seeds,optional
Directions
1. Preheat oven (toaster oven fine) to 400 degrees.
2. Toss sweet potatoes with 2 tablespoons oil and place on foil-lined baking sheet. Lightly season with kosher salt and bake until tender, about 20 minutes.
3. Meanwhile, in one medium-sized pan bring 5 cups of salted water to a boil. Add lentils, reduce heat to low, and simmer until tender, about 20 minutes. Drain. In another pan, bring 1 1/3 cups salted water to a boil. Add couscous and cook until tender, about 10 minutes.
4. To make a dressing for the salad, whisk remaining oil, zest, juice, honey, curry, turmeric — if using — garlic and ginger together. Toss with sweet potatoes, lentils and couscous. Season to taste with kosher salt and cayenne. Garnish with cilantro and sesame seeds, if using.