Posted on
Thu, Nov 29, 2012 : 11:20 a.m.
Curried Mussels and Clams with Lemongrass and Coconut Milk - festive dinner requires minimal effort
By Peggy Lampman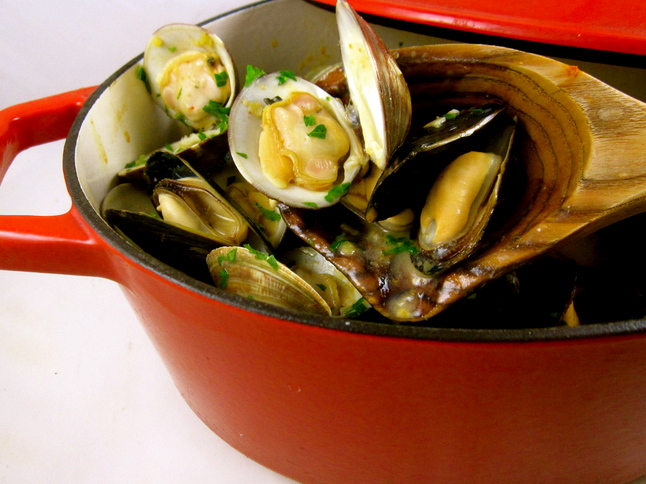 Peggy Lampman | Contributor

The new Holiday Cookbook answers all of your cooking needs. Strapped for time? Check out the well-tested Super-Simple section.
Here's a dish that requires minimal effort; a recipe of reprieve after a tedious week spent in preparation for Thanksgiving. But this is not a dull dish, mind you, for these coconut-curried infused mussels and clams are festive enough for ushering in the holiday season, which is—sigh—officially underway.
Too weary to even mince a clove of garlic? No sweat. You could slash the ingredient list to just water and bivalves, if so inclined, and a dish of fresh steamers can be on your table in 10 minutes. The only essential ingredient is a pot or pan of boiling liquid—rising an inch or two from the bottom of the pan—in which you'd place the mollusks. Indeed, purists recommend using only water—as nature's briny nectar, which emerges from the bivalves as they steam, is the perfect seasoning, best appreciated uninterrupted.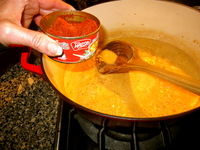 But I've never been one to leave well enough alone, and when I make steamed mussels and/or clams, the liquid I use is an international brew—anything from Asian-inspired (as in the recipe below) to Mediterranean.
Craving, for instance, a Spanish-styled tapas? Saute spicy chorizo sausage with onions and tomatoes, add a splash of vibrant Tempranillo, bring to a boil and cook the bivalves until open. Smear the sausage and seafood on a bit of grilled bread (ideally, smoked) and you have a nosh for the gods.
If you've ever visited France or Belgium, it would be hard to miss the menus outside of cafes celebrating Moules Frites—a bistro classic, which is a mussel preparation served with frites (French fries), a garlicy mayonnaise for potato dipping, and an appropriate wine, such as a Sauvignon Blanc, or solid Belgium ale. To prepare the mussels, sauté shallots and garlic in lots of butter, then steam the mussels in a bath of white wine and seafood stock, whisking in heavy cream and a pinch of cayenne at the end of cooking time.
I'd be remiss to ignore one of my favorite quickie meals of all, a shellfish marinara, where I steam the shellfish in a garlicky olive oil-tomato bath, then serve them tossed with a fistful of torn basil, red pepper flakes and pasta.
There are no absolutes on the cooking time of mussels and clams; be at the ready the minute they pop open, then serve immediately. There's nothing worse than an overcooked mussel or clam, which has the texture of a little rubber ball.
It becomes trickier when steaming mussels and clams together. From my experience, clams require 3-4 minutes of additional cooking time, which is reflected in my recipe below. Mussels and clams come in all sorts of varieties and levels of freshness, which determine absolutely the cooking time. If in doubt, select either mussels or clams and put your worries aside.
The ingredients may be found at most supermarkets with a well-stocked Asian department, and certainly local Asian stores such as Tsai Grocery or the Galleria Asian Market. As with all seafood, you want to purchase your bivalves from a reliable fishmonger; mussels and clams should be alive when purchased and kept alive, refrigerated in an open bag or container, until cooking.
To make serving easy, place the pot of shellfish on the center of the table, and let your guests help themselves. Bread, pasta or rice are highly recommended as sops for the savory brew. Then, pour yourself a glass of something festive, and set your dial to some laid back tunes — Diana Krall or Ella Fitzgerald holiday classics come to mind. Their bluesy notes, set against the clicking of forks against shells, provide relaxing background for easing yourself into a holiday frame of mind.
Yield: 4 servings with steamed white rice
Time: 25 minutes
Ingredients
3 tablespoons unsalted butter, ghee, peanut oil or a combination
2 teaspoons minced garlic
2 tablespoons minced fresh ginger
3 tablespoons finely chopped fresh lemongrass*
2 tablespoons fish sauce
1-3 tablespoons Thai curry paste, green, yellow or red Thai curry paste
1 can (13 1/2 ounces) unsweetened coconut milk
1 1/2 pounds little neck clams
1 1/2 pounds mussels, rinsed and scrubbed
1/4 cup chopped fresh cilantro
Instructions
1. Scrub shellfish under cold water and de-beard, if necessary.
2. In a Dutch oven or large, heavy-bottomed pot with a tight-fitting lid, melt ghee, butter or oil over medium heat. Add garlic, ginger, lemongrass, fish sauce and 1 tablespoon of curry paste and cook, stirring, until fragrant, about 3 minutes, adding additional curry paste to taste.
3. Whisk in coconut milk, raise heat to high, and bring to a low boil. Add clams and stir to combine. Cover pan and reduce heat to medium-high. Cook 3 minutes then stir in mussels, stirring once. (Review above notes for cooking mussels and clams together.)
4. When clams and mussels have opened, remove pot from heat, discard unopened mollusks, and stir cilantro into pan. Serve.
*If lemon grass is unavailable, season final broth to taste with lime juice.
Peggy Lampman is a real-time food writer and photographer posting daily feeds on her website and in the Food & Grocery section of Annarbor.com. You may also e-mail her at peggy@dinnerfeed.com.