Posted on
Thu, May 10, 2012 : 8:11 a.m.
Dandelions: They are good for you, easy to find and grow and beautiful as well
By Linda Diane Feldt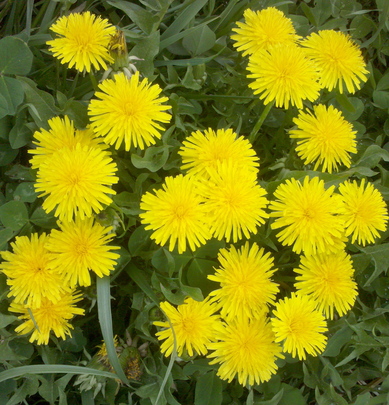 Linda Diane Feldt | Contributor
Some things are worth repeating. Dandelions are valuable plants. Dandelions have medicinal use, and they have value as a nutritionally-dense food. They can taste great.
In the last few weeks, I've seen people working hard to dig dandelions from their lawns and had the chemical stench of weed killer overpower the fragrance of lilacs, lily of the valley and other flowers. This is a competition for air space that the flowers always lose.
Spending time and using toxic chemicals to eliminate a valuable plant is bizarre behavior, yet it is also what many people still feel compelled to do.
Conventional lawns are finally dwindling in this area, replaced by permaculture, small prairies, rain gardens, hardscaping and natural lawns that incorporate common weeds and a variety of plants, many of which are useful for food and medicine.
Are you concerned about the wild and domesticated bees? They are in trouble, and dandelions can help. Dandelions provide bees with an important source for food early in the year, and between other flowers. And if those flowers are poisoned, it eliminates a critical food supply and also carries that poison back to the hive, possibly damaging these sensitive and vital insects.
When I last wrote about dandelions, a number of the comments published and private were from people who like the look, the taste and the spirit of dandelions. I'm thrilled whenever I see a lawn with lots of dandelions. It means it hasn't been poisoned, it looks lovely, and it is a source for potential harvesting for the people who live there.
I've written about the benefits of dandelions many times before. Here it is again.
The dandelion, Taraxacum officinale, was intentionally brought to the U.S. hundreds of years ago. A bitter green, the leaves can be used in salads, in stir-fries, as a pot green mixed with other vegetables or as a garnish on sandwiches — yep, even on your hamburger in place of lettuce. I blend them into homemade salad dressing.
I pick the flowers and shred them into salads (an entire dandelion blossom can be a little overwhelming for most people). Combined with violets, mustard flowers, red buds and other flowers, and it is a lovely little riot of color in your salad bowl.
Like other bitter greens, dandelions help stimulate digestion when eaten a few minutes before or during a meal. You can also use dandelion tincture for the same purpose. They contain more beta carotene, which the body converts to vitamin A, than carrots.
The leaves are also high in calcium and other minerals, and antioxidants. They contain vitamin C and act as a mild diuretic. The leaves and roots also provide nourishment for the liver. And of course dandelion wine can be made from the flowers, which is also enjoyed as a digestive aid and a pleasant beverage.
All parts of the dandelion are edible at all times of the year. The leaves of most (but not all) varieties are more bitter midsummer and around the time of flowering. They are the most palatable in the spring and fall.
The roots are harvested in the spring and fall for their medicinal value and can be preserved in alcohol (I use 100 proof vodka) or in vinegar. The vodka makes a tincture, used a few drops at a time most commonly for the digestive help or for liver support. The vinegar creates a sort of pickle, the root can still be eaten for the flavor but the resulting vinegar is a mineral rich potion enjoyed for its bio-availabilty.
Please thank your neighbors who are allowing dandelions to grow unpoisoned in their yards, and try incorporating this valuable plant into a few meals.
For now, be careful were you harvest since so many dandelions are still being treated with chemicals that are harmful to you. And for the long term, ask how your yard can be useful — for wild life, for bees, for you and your family — rather than just ornamental.
Linda Diane Feldt is a local Holistic Health Practitioner, author and teacher. You can follow her on twitter, visit her website, and also subscribe to her on-line publications sent out weekly including "Wildcrafting Recipes: Loving and Eating Wild Foods". Upcoming weed walks include one for Growing Hope May 13, The Chelsea Michigan Friend's Center May 26, and an "independent" walk May 20. Contact Linda Diane for more details.